Declaring it Bridgeport's emergence as the center of music entertainment in Fairfield County, Connecticut's top concert promoter Jim Koplik of Live Nation and SportsCenter of Connecticut, leader Howard Saffan joined Mayor Joe Ganim Thursday afternoon on McLevy Green Downtown to announce a partnership to transform the Ballpark at Harbor Yard into a $15 million weather-proof boutique amphitheater seating upwards of 8,000 for a six-month annual season projected to start spring of 2019.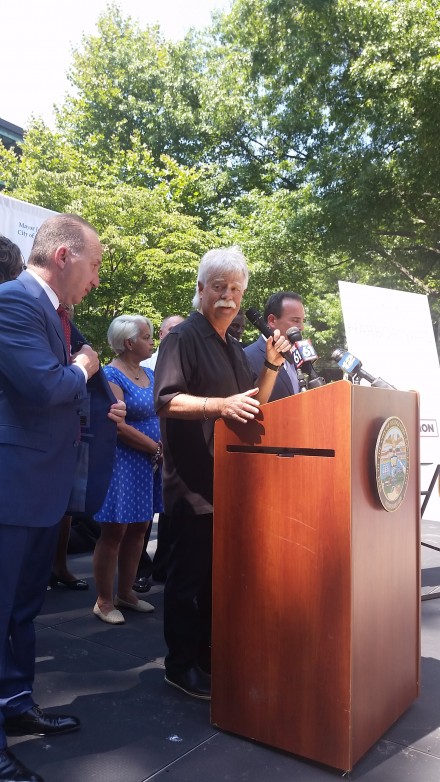 "This is a dream come true," announced Saffan, a big Bridgeport booster who served for 10 years as president of the Sound Tigers professional hockey team that's the anchor tenant of the Webster Bank Arena. Saffan projected the amphitheater economic impact spinoff for the city at $50 million a year, the "gateway to the South End" creating 1,250 short-term jobs and hundreds of positions during the warm-weather season. He said he will hire all local vendors. The unique feature of the amphitheater, he said, is a sturdy tent-like tensile roof to accommodate patrons irrespective of weather.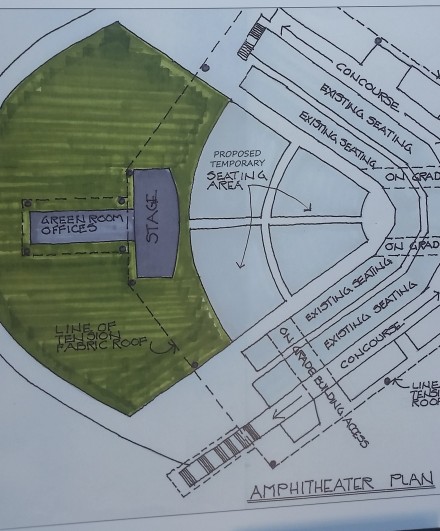 Saffan and Koplik in recent years have discussed Bridgeport as a fit for an amphitheater given its proximity and highway access. They are contemplating the seating size between 6,500 and 8,000. The ballpark capacity is 5,300.
The city, which owns the ballpark, issued a request for proposals several months ago. Attendance-struggling Bluefish ownership was one of three entities that responded. Mayor Joe Ganim said the 20-year-old ballpark requires upwards of $20 million in improvements, part of the equation in selecting the amphitheater proposal to "Turn the page for an exciting change as a premiere venue bringing in unbelievable entertainment."
The facility will have 21 luxury suites, three VIP lounges, outdoor barbecue area, hosting 50-75 annual events including concerts, festivals, community events and family shows.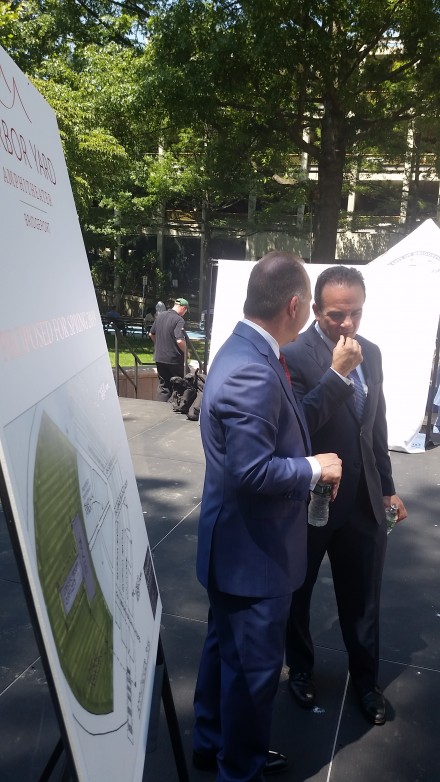 Koplik, who has promoted concerts in Connecticut for four decades said the amphitheater will be a one-of-a-kind, weather-proof venue taking advantage of the popular trend of summer concerts. As for concerns expressed by arena officials, Koplik emphasized that the amphitheater and the adjacent arena are completely different concert markets that pose no competition issues. Koplik has also booked concerts at the arena. He said the amphitheater will put Bridgeport on the map for concerts, a regular stop for summer tours for acts such as Steely Dan, Bob Dylan, Stevie Wonder, John Mellencamp and Goo Goo Dolls. He added that the amphitheater visibility will boost the city's concert reputation to become a winter destination for acts that are a better fit for an indoor environment. The arena, he said, has booked only a few summer concerts in recent years. He added that many cities have both a larger arena and separate amphitheater setting that accommodate the different concert markets.

Koplik said the closest likeness to the proposed amphitheater is the Blue Hills Pavilion in Boston.
Ganim said the ballpark is in a state of disrepair and looks forward to the improvements that come with the new amphitheater. He had kind words for Bluefish ownership but added it was time to turn the page that he expects to have a significantly higher economic impact for the city. The city receives more than $100,000 a year from the Bluefish.
Saffan said his company will cover at least 50 percent of $15 million renovations but will sit down with city officials to negotiate a cost-sharing partnership for the city-owned venue. The city's Office of Planning and Economic Development and the City Attorney's office will craft a leasing agreement with Saffan.
As for arena officials barking about the amphitheater presence, Ganim said the city is in court battling over fees owed the city. "I hope they see the bigger picture."