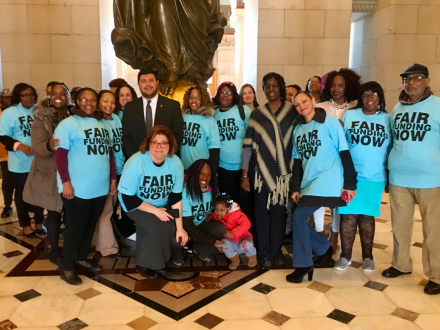 Declaring "Connecticut's schools of choice change thousands of lives in and beyond Bridgeport, and open thousands of doors for our state's neediest students," State Rep. Chris Rosario on Monday joined charter school advocates and parents at the State Capitol urging fair funding for "public schools of choice including public charter schools and magnet schools."

Rosario, a Democrat, was joined by Republican State Senator Art Linares who represents eastern Connecticut and parents from Bridgeport, Hartford and New Haven.
Charter school advocates are engaged in a funding battle with supporters of traditional school districts. Charter schools receive public dollars but operate independently of traditional school districts that also oversee magnet schools.
More than 50,000 Connecticut students attend 120 schools of choice, according to Families for Excellent Schools, an advocacy group that supports charter schools, which argues schools of choice serve as a critical education option for low-income children.
At a morning news conference Rosario said "These schools must be funded fairly."
Critics argue charter schools swipe needed resources from traditional school districts.
"Connecticut's unfair system must be replaced with one that doesn't discriminate against any public school children, no matter their race, income, zip code or the type of public school they attend," said LaQuita Bowles, a charter school parent from Bridgeport and organizer with Families for Excellent Schools.
Last year a state judge ruled Connecticut's education funding formula unconstitutional that disproportionately hurts urban school districts. The state legislature is trying to craft a "fair formula" that addresses the judge's decision.