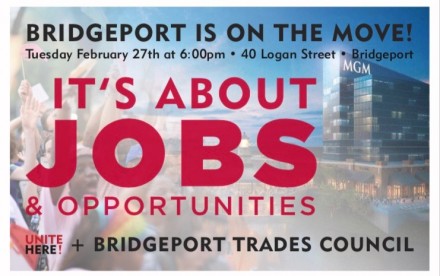 What's wrong with an open, competitive process? Why does a gaming monopoly advantage the tribal nations to the economic detriment of the rest of the state including Connecticut's largest city where polling shows residents overwhelmingly support MGM Resorts' proposed waterfront gaming development that will create 7,000 jobs by a proven gaming leader? In a state crying out for jobs and drowning in red ink East Hartford State Senator Tim Larson, co-chair of the state legislature's Public Safety Committee, attempted to block on Tuesday a legislative gaming proposal placed on the committee's public hearing agenda.

Larson's backroom maneuver came in what is typically a routine "screening" meeting where committee leadership determines which bill proposals will be considered for a public hearing. Legislative courtesy traditionally permits proposals that are supported by multiple legislators to at least have a hearing. Preventing that from happening could kill bi-partisan consensus on a host of key issues underway during the 2018 session that began just two weeks ago.
It is not unusual for closed-door maneuvering to occur in a legislative session but such displays usually are seen at the end, when options for other avenues to pursue legislation are limited. With nearly three months left in the session, legislative insiders observe that Larson exposed his bias against an open, competitive process prematurely, leaving alternative routes available for the bill to advance in other committees.
The competitive bill has been a priority for most members of the Bridgeport and New Haven legislative delegation, as well as local elected officials including the mayors of Bridgeport and New Haven.
MGM Resorts International is partnering with the RCI Group, developers of Steelpointe Harbor, to build a casino on the old Carpenter Technology site on Seaview Avenue. The proposal seeks no public subsidy.
Protecting its Connecticut market against MGM's nearly 1 billion dollar Springfield, Mass. gaming facility under construction, the tribal nations that run Foxwoods and Mohegan Sun were awarded by the state a site in East Windsor to build a casino on non-tribal land. The East Windsor deal has been slowed, however, by sign-off inaction from the federal regulatory Department of Interior. The proposal has been dubbed by OIB gaming observer Tom Kelly the "Least Windsor" slot box short on the amenities proposed by MGM's Bridgeport location.
Larson, whose Senate district includes East Windsor, also reportedly misrepresented the facts of the competitive bill in Tuesday's committee leadership meeting arguing that it would threaten the tribes' current payments to the state, when the conceptual language of the bill would dovetail a two-step process that has been previously been used for the tribes' benefit in 2015 and 2017.
The proposal requires state legislative support because of a gaming monopoly the state granted Connecticut's two tribal nations in exchange for 25 percent of the slot take, a number MGM officials assert is dwindling with a promise of more revenue to the state including an up-front $50 million licensing fee upon a green light. MGM has given state officials swimming in red ink something to think about as legislators seek new revenues streams. MGM pegs its revenue flow to the state at more than $300 million annually.
Although Larson and the tribal nations have been trying to thwart MGM, the tribal nations have suggested if the legislature authorizes a competitive process they will participate.
So what's wrong with an open, competitive process to see what's the greatest value for the state? Why is Larson absorbed in a gaming monopoly? Although he represents East Windsor, doesn't Larson have a larger obligation to protect the state from revenue leakage?
And where are Bridgeport's two state senators Ed Gomes and Marilyn Moore on this issue?