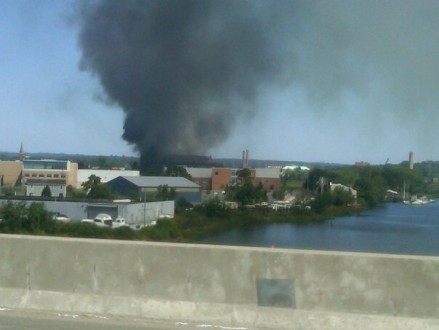 CT Post link re fire at old Remington plant
www.ctpost.com/news/article/After-another-Remington-fire-what-s-next-635609.php
Mayor Saves Dog House From City Pound
Okay, okay, turning this hotdog vendor into sausage has some of my friends thinking (they're just as warped as me) hey how far is the state courthouse setback from the city sidewalk?
In other words, where does the city lose jurisdiction to the state? The Marzan family Snappy Dawgs cart was flagged by city police as a result of a protest by former city development director Nancy Hadley for pulling up its hotdog cart on the city sidewalk (where it had been for years). So why not pull the cart right up to the steps of the courthouse and draw a wiener line, or a mustard line, or a relish line, or any kind of line you wanna call it. I'm on state property, you colon heads, so until the state tells me to get lost I'm selling dogs to jurors and judges, and yes, all those lawyers that didn't know I wasn't supposed to be doing business here.

Am I being ridiculous? Of course, but then the Marzan family can turn this into a national story, and then we can have a national hotdog eating contest on the steps of the courthouse and invite the Guinness Book of World Records. Did I say Guinness? I think it's time for a stout.
Meanwhile, Mayor Bill Finch has saved the doggie cart from expulsion until something can be worked out. Says the mayor …
"We, as a city, have more important things to do than to harass legitimate businesses in Bridgeport. The police took action based on a request from the Downtown Special Services District, not from me. I have enjoyed hot dogs from Snappy Dawgs on many occasions. I have discussed this issue with the law enforcement and our city attorney and I am confident that we will come to a resolution of this issue in short order."