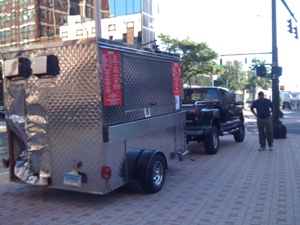 Wow, don't get on the bad side of former Economic Development Director Nancy Hadley. You might lose your wiener. Nancy, a downtown resident, says the Marzan-family hotdog vendor (pictured above) who've made the sidewalk next to the Main Street courthouse a drive-up destination shouldn't be doing business there.
She complained to police and the food cart was ordered to vacate which came as a surprise since they've been there for years. I asked Nancy, what gives? It's an ordinance and quality of life issue. (OIB friend Tom Kelly says she's correct on the ordinance.) Her reply: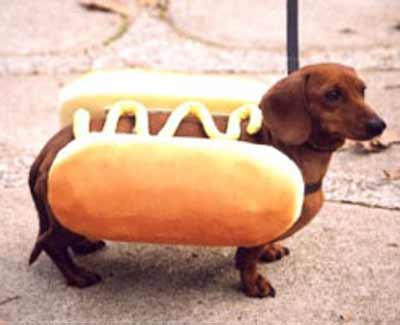 A couple of weeks ago Dan Tepfer wrote an article in the CT Post about the increase in restaurant options for downtown jurors at the courthouse on Main and Fairfield. The picture with the article was of the hotdog vendor 'Snappy Dogs'. So I wrote back to Dan and stated that I didn't think the hotdog vendor's permit allowed a truck to drive up on the public sidewalk every morning at 7 a.m. and leave a meal vendor on the public side walk and then drive back up at 3 p.m. and drive the cart away.

The sidewalk now has dark black burn exhaust marks from the vendor conducting business every day. I wrote that it was great that Dan mentioned some of the new restaurants that are now downtown but I hoped he realized that those restaurants had to apply to the land use boards to hire architects and attorneys and pay rent every month to their landlords. I thought it was wrong that the city was allowing the hot dog vendor to use the public sidewalk to conduct business given the parameters of the permit. I thought the same rule applies to the vendor that has taken up shop on the sidewalk across from the Golden Hill Courthouse. I sent the article and picture to the police department and asked them to check out the status of the permit for both vendors.

If they were not allowed to be on the public sidewalk I requested that they take appropriate action. Dan called today and said the police was finally taking action against the hot dog vendor on Main and Fairfield. I am dismayed that enforcement ignored this situation for seven years but rules are rules. The vendors-on-wheels should not be allowed to operate outside the rule of law at either location. It is just plain wrong.
But where will jurors and judges now grab a dog?