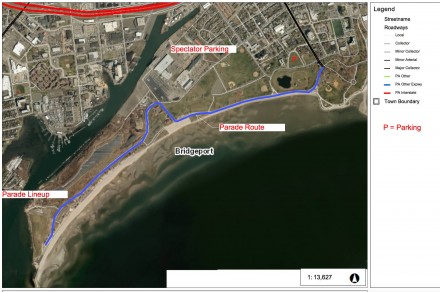 Barnum Festival planners are launching something different this year, transferring the Great Street Parade to Seaside Park whose land was donated by P.T. Barnum. The parade has had some different routes over the 70 years of its existence, but in recent years primarily traveling north on Park Avenue. This year it will be confined to the park on July 1 that includes a full day of festivities with parade, music, food trucks and fireworks capping the night at 9:15. The parade starts 11 a.m. Why the change? Cost factor. Police presence is a fortune. Also, Seaside Park is a spectacular venue. On a sunny Sunday it features the largest assemblage of people in the city.

According to festival organizers the parade will start at West Beach at the lighthouse end of the park and travel east to the Perry Memorial Arch on Park Avenue. Everyone can salute Mr. Barnum's statue overlooking the waterfront.
While West Beach is permit parking only on that day, festival organizers and the city have identified areas of free parking along the eastern portion of the park as well as free parking on the UB campus lots. Organizers will direct parade spectators to free parking areas.
There is some community meowing about the change, but the reality is the parade crowds have thinned out over the the years. Police security costs have stretched the parade budget. This is also a way to introduce the Barnum Festival to a cross section of the city that utilizes the park.
From the festival Facebook page:
We close out the Festival season with a real showstopper–the annual Great Street Parade! Join us as a procession of firetrucks, bands, floats, clowns, performers, and community members travel around Bridgeport's scenic Seaside Park.

Bring the whole family to celebrate and support the city of Bridgeport and surrounding communities.

Join us for a full day of fun and celebration of the city of Bridgeport and surrounding communities at the main event, BarnumPalooza! We'll have food trucks, live music, and plenty of carnival rides for kids.

Any purchases made throughout the day will benefit Barnum Festival Activities and scholarships.
The festival launched in 1948, led by industrialist Herman Steinkraus, to celebrate the contributions of showman Barnum who made Bridgeport his home.