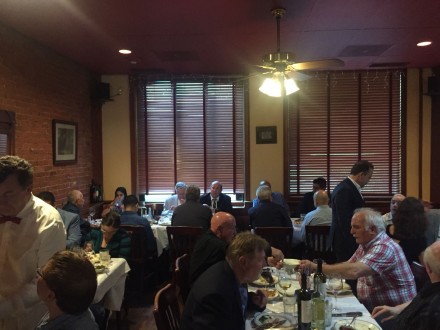 Former state commissioner and gubernatorial candidate Jonathan Harris is checking the primary petitions collected by Joe Ganim political operatives for irregularities. Meanwhile, now that the signature drive for governor is over, Ganim is picking up his fundraising pace as he faces the millions Democratic endorsed Ned Lamont will spend. Ganim had a big-ticket event Thursday night Downtown at Joseph's Steakhouse. The maximum personal contribution to Ganim's campaign allowed by state law is $3,500. The current fundraising quarter ends on Saturday.

From Neil Vigdor, Hartford Courant:
Ganim said Lamont's campaign is welcome to inspect the signatures he collected as part of his record-setting petition drive.

"Look, if they're gonna try to question or challenge … they've probably never seen 32,000 signatures before," Ganim said. "I know they were shocked and taken aback. I think they recalculated the depth of support this grassroots campaign has. Maybe they should have spent six weeks going out and making voter contact."

Lamont's campaign manager Marc Bradley said Ganim should move beyond politics to the issues.

"Ned Lamont is spending every day criss-crossing the state talking to voters about his vision for Connecticut," Bradley said. "Meanwhile, Joe's still talking about signatures he filed two weeks ago. Where's his plan? Is this it? This is a critical election. Connecticut deserves better."
Full story here.