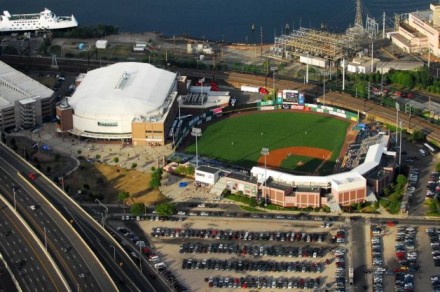 A lot of stuff is swirling out there about who deserves credit for making construction of the ballpark and arena at Harbor Yard a reality.
Fact: There's no ballpark, no Bluefish and no arena without Mary-Jane Foster and husband Jack McGregor. They were the driving private-sector forces behind the sports entertainment complex.

Fact: There's no ballpark and arena without former Mayor Joe Ganim.
Fact: No ballpark and arena without former Governor John Rowland.
Fact: No ballpark and arena if business leaders such as David Carson, retired chief executive of People's Bank, hadn't urged Rowland to support the project.
Fact: City Council members Bill Finch, Mike Marella and Patrick Crossin rallied other council members to support it. They deserve credit.
Fact: Not one City Council member, whether Marella or anyone else, had the business skill and financial savvy to make the complex a reality.
Fact: Others deserve credit not mentioned.
Fiction: Finch claiming Foster did not win the development contract for the arena because Foster wanted to spend $50 million in taxpayer funds and keep ownership of the structure. What a bunch of hooey. Where did Finch come up with that?
Connecticut Post story:
www.ctpost.com/local/article/Foster-s-claims-on-Harbor-Yard-complex-come-under-2168978.php