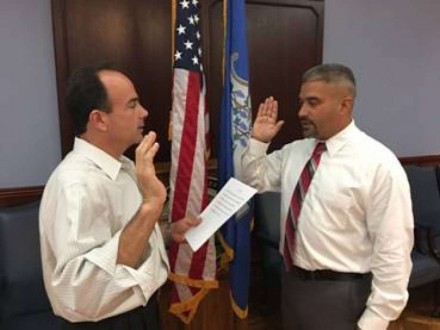 Special meetings of the Board of Education are scheduled for Tuesday and Wednesday to consider a high school field trip and pending litigation matter respectively three weeks after four school board members announced a boycott of meetings demanding the resignation of Maria Pereira who isn't going anywhere and urged the four to resume their duties. The next regularly scheduled Board of Education meeting is set for October 11. A quorum requires five in attendance. The newest board member Rafael Fonseca, appointed by Mayor Joe Ganim to fill a vacancy, says he will attend meetings.

Will a quorum force no-show board members to attend meetings?
On September 12 members Dennis Bradley, Joe Larcheveque, Kevin McSpirit and Annette Segarra-Negron announced "we as a group have agreed that we will no longer regularly attend Board of Education meetings until such time as Ms. Pereira resigns her position," charging dysfunction on the board and "harassment" by Pereira who recently filed a lawsuit in Superior Court challenging Ganim's authority to appoint Segarra-Negron to fill the vacancy of Dave Hennessey.
Fonseca ran successfully with Pereira in an Upper East Side Democratic Town Committee slate last March that won all nine seats. Shortly after they had a falling out. Ganim's appointment of Fonseca could force the boycotters to reverse themselves. Pereira is part of a coalition including Ben Walker, Sauda Baraka and Howard Gardner that generally vote in a bloc on key issues, so they certainly would maintain control if the others stay away. If they show up Fonseca could emerge as a swing vote.
Although politically aligned with Bradley in the past, Ganim wonders if the board chair's push for a boycott is strategically flawed. Community interests have stepped up urging Ganim to use his public prestige to urge a quorum. Pereira, a lightning rod on the board, will not resign, and if anything she is digging her heels in harder castigating the four no-shows for abdicating their responsibilities.
What is the endgame for the boycotters? If they continue to stay away they look irresponsible. If they return to meetings they look weak.
See Tuesday agenda here. Wednesday agenda here.