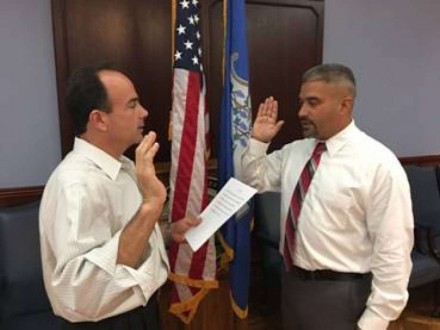 From city Communications Director Av Harris:
Mayor Joe Ganim today announced that pursuant to his authority under the Bridgeport city charter he has appointed Rafael Fonseca, Jr. as the newest member of the Bridgeport Board of Education. Fonseca has been appointed to fill the vacancy on the board of education created by the recent resignation of Andre Baker from the board. Under the Bridgeport city charter, Mayor Ganim has authority to appoint a member to the board when there is a vacancy and the board fails to appoint a member to fill the vacancy within 30 days of the vacancy being created. The Mayor made the appointment after waiting well past the 30 day appointment window given to the board of education and with no indication that the board was moving to fill the vacancy.
"Though I would have preferred that the board of education move to fill this vacancy on its own, I am compelled by duty to make this appointment so our schools can function with proper guidance from a full board," said Mayor Ganim. "Ralphie Fonseca's dedication to community and country is evident by looking at his career of putting his life on the line to protect all of us as a police officer and a member of our military. We are all grateful that Ralphie is once again volunteering to serve–this time in a critical post that will allow the Bridgeport Board of Education to function properly with all members present. Key decisions need to be made and there is so much work to be done!"

Fonseca is a lifelong Bridgeport resident, has served as a Police Officer in Norwalk for 15 years and prior to that served as a police officer in Ridgefield for four years. As part of his service in law enforcement Fonseca served as a school resource officer, was also very active in the D.A.R.E program, and has coached little league baseball for many years. Fonseca is also a military veteran, having served for 13 years in the US Army Reserve, attaining a rank of Sergeant 1st class at the time of his honorable discharge. He holds a Bachelor' degree in Sociology from Southern Connecticut State University in New Haven. He and his wife Dolores have one daughter and one son, and are longtime residents of the East side of Bridgeport.
In an email to OIB, Pereira commented on the appointment.
Here is a press release from Mayor Ganim, who filled the BOE Vacancy created by Andre Baker's resignation, and filed a notice with the City Clerk this morning. He appointed a member of our 138th TC who 6 of 9 members do not speak with because after I asked them to join my slate; Rafael Fonseca and his wife Dollie Fonseca tried to organize a coup to make him the 138th District Leader. I was well aware it was happening but left it alone because I felt they would implode, and they did.

We have been preparing for this possibility and are hopeful we will have a decision by Judge Bellis by the end of October regarding the legality of the two BOE members appointed by Mayor Ganim.

Ganim has now appointed two BOE members that have not attended a single BOE meeting in the almost 8 years I have been involved in our true public schools. Our goal was to appoint a Bridgeport Public School parent. Appointing Mr. Fonseca is Mayor Ganim's attempt at retaliation which informs me I have gotten under his skin and he is clearly annoyed. 🙂

I believe that Mr. Fonseca does not understand that Mayor Ganim is using him as a sacrificial lamb as a form of retaliation against me and could care less if a judge removes him from his appointed seat on the BOE in 30-45 days.

Attorney Smith has been preparing for this arrogant move by Mayor Ganim. Remember, it was arrogance that brought down Fabrizi, Finch, and Ganim 1. I believe it will be what causes his defeat three years from now.