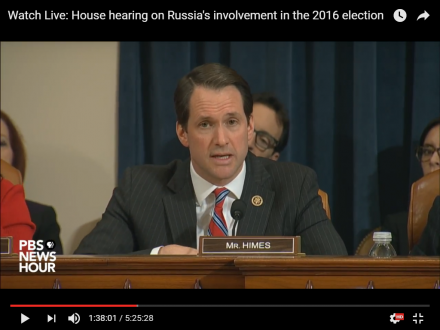 Congressman Jim Himes, a member of the U.S. House Intelligence Committee, had a starring role Monday questioning James Comey on a day the FBI director announced an ongoing federal investigation into Donald Trump's political operatives colluding with Russia to influence the 2016 presidential election. Himes' latest appearance resembles actor Jeff Daniels' Will McAvoy role in the heralded HBO series The Newsroom.


Questioning Comey, Himes emerges at the 1:37 mark of the You Tube video asserting:
"Our new president will attack anyone and everyone. He will attack the cast of Hamilton. He will attack Chuck Schumer. He will attack our allies, Mexico, Australia, Germany. He will attack the intelligence community which you lead … But there's one person and one country which is immune which is inoculated from any form of presidential attack, no matter what the behavior, no matter if … Vladimir Putin kills political opponents … the new president defends … does not attack."
In case you missed it check out "the most honest three minutes in television" that explains why America is not the greatest country anymore.