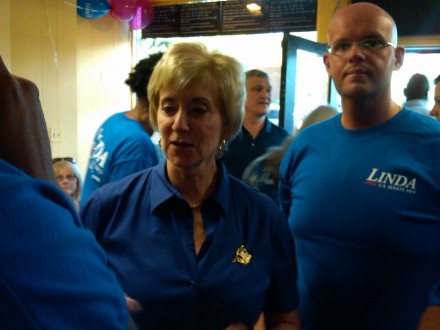 Today's Quinnipiac poll mirrors last week's survey conducted by www.rasmussenreports.com showing Republican U.S. Senate nominee Linda McMahon with a three point lead over Democrat Chris Murphy. The poll shows that the new campaign branding of McMahon is working among women, a demographic that voted overwhelmingly for Dick Blumenthal during McMahon's first run for Senate. From the Q Poll:
Connecticut likely voters put Republican former wrestling executive Linda McMahon on the right side of a 49 – 46 percent too-close-to-call U.S. Senate race against Democratic U.S. Rep. Christopher Murphy, according to a Quinnipiac University poll released today.


This is the first look at likely voters by the independent Quinnipiac (KWIN-uh-pe-ack) University and can not be compared to earlier surveys of registered voters.

In today's survey, McMahon's 54 – 42 percent lead among men swamps Murphy's small 50 – 46 percent lead among women. McMahon leads 88 – 10 percent among Republicans and 55 – 40 percent among independent voters, while Murphy takes Democrats 82 – 16 percent.

McMahon leads among all income groups, except voters making $50,000 to $100,000 per year. Voters under 35 years old back Murphy 51 – 43 percent, while McMahon leads 54 – 42 percent among voters 35 to 54 years old. Voters over 55 are split 48 – 48 percent.

Connecticut voters give McMahon a 47 – 35 percent favorability rating, while Murphy gets a 38 – 30 percent favorability, with 32 percent who don't know enough about him to form an opinion.

"The poll is good news for Linda McMahon. In our first likely voter poll in Connecticut, McMahon has a 3 point advantage in a too-close-to-call-race. Her edge is due to her double- digit lead among independent voters and being close among women, a group she struggled with in her 2010 run," said Quinnipiac University Poll Director Douglas Schwartz, PhD.

"McMahon has worked on her image in the last two years, and it shows. Voters like her more now than they did when she faced Richard Blumenthal in 2010."

President Barack Obama holds a narrow 52 – 45 percent lead over Gov. Mitt Romney, his Republican challenger, among Connecticut likely voters. Twelve percent of Obama voters and 12 percent of Romney backers say they might change their mind.

The gender gap is yawning with women backing Obama 59 – 38 percent while men back Romney 53 – 45 percent. Independent voters are divided with 49 percent for Romney and 47 percent for Obama. Obama leads among all income groups except for a 49 – 49 percent split among voters making more than $100,000 per year. Voters in all age groups back the president.

Obama gets a 51 – 46 percent favorability while Romney has a negative 41 – 44 percent. Vice President Joseph Biden gets a negative 38 – 43 percent favorability, compared to a negative 30 – 33 percent for U.S. Rep. Paul Ryan. Another 37 percent don't know enough about Romney's running mate to form an opinion.

Connecticut voters say 43 – 35 percent that Biden is qualified to be president, compared to 29 – 26 percent, with 44 percent undecided, for Ryan.

The economy will be "extremely important" to their presidential vote, 58 percent of voters say, higher than any other issue. Medicare will be "extremely important," 41 percent say.

Romney would do a better job on the economy, Connecticut voters say 49 – 44 percent. Obama would be better on Medicare, voters say 51 – 41 percent.

"Although President Barack Obama is ahead of Gov. Mitt Romney, his 7-point lead is a far cry from his 23-point victory in 2008 over John McCain. We shouldn't, however, expect to see the candidates campaigning in Connecticut, which hasn't voted for a Republican since 1988," Dr. Schwartz said.

"This smaller than expected margin for Obama could affect the Senate race. The Murphy campaign is hoping to benefit from Obama's coattails, but right now they are not very long."

From August 22 – 26, Quinnipiac University surveyed 1,472 likely voters with a margin of error of +/- 2.6 percentage points. Live interviewers call landlines and cell phones.

The Quinnipiac University Poll conducts public opinion surveys in New York, New Jersey, Connecticut, Pennsylvania, Florida, Ohio, Virginia, and the nation as a public service and for research.
Full survey: www.quinnipiac.edu/institutes-and-centers/polling-institute/connecticut/release-detail?ReleaseID=1790