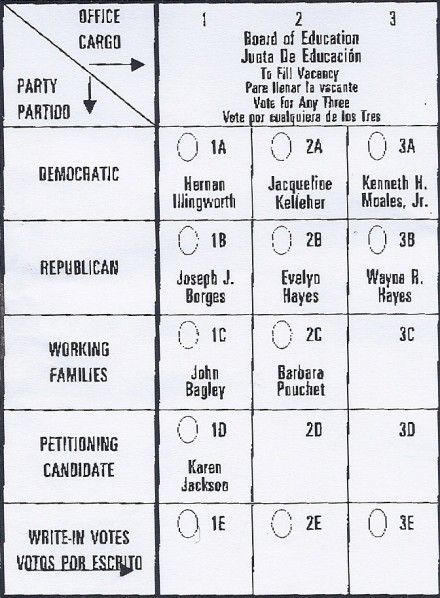 A coalition of community interests including clergy, education and social justice is urging Bridgeport voters to turn out for the Sept. 4 special election to fill four Board of Education seats the day after Labor Day. Maybe it's time to scream from the highest point in the city (Whiskey Hill?) for everyone to step up. Isn't it amazing how voters gear up for a presidential election but mail it in for local elections? Speaking of mailing it in we may see one of the highest percentages of absentee ballot voting for this race in city history. What's wrong with that, at least they're voting? Even if they're shown how to vote? Ah, that's another story.

City teachers have weighed in on this race. The Bridgeport Education Association has endorsed Working Families Party candidates John Bagley and Barbara Pouchet and Democrat Jacqueline Kelleher.
A lot is riding on this election for Mayor Bill Finch, Democratic Town Chair Mario Testa, education advocates who like the direction of education under Superintendent of Schools Paul Vallas and the state-appointed school board, as well as insurgents opposed to state control and a mayoral-appointed school board that voters will decide in November. Political supporters of the three endorsed Democrats Ken Moales, Hernan Illingworth and Kelleher say it will be devastating to the education process if the Working Families Party gains control of schools.
If John Bagley and Barbara Pouchet finish among the top three vote producers the little Working Families Party could exert enough influence to choose BOE officers as well as control votes and appoint the next school chief when Vallas, the turnaround professional, leaves at the end of the 2013 school year. The WFP already has two of its loyalists on the school board, Maria Pereira and Sauda Baraka. One of the four open school board seats is reserved for minority party representation. The special election ballot informs electors to "Vote For Any Three" of the nine candidates on the ballot.
Some Democratic operatives are encouraging supporters to vote for one of the three Republicans on the ballot, former Registrar Joe Borges and husband-wife Wayne and Evelyn Hayes, to deny the WFP a minority-party spot. Ironically many of the same Democratic operatives pushed the candidacies of Pereira and Baraka to reject Republicans board spots in 2009. Be careful what you wish for. Now they regret that effort as Pereira and Baraka have worked against Finch administration interests.
See letter below from community interests also distributing flyers to educate voters about the special election.
On September 4th, the residents of Bridgeport will be given a second chance to vote for their own Board of Education. The Connecticut Supreme Court has given the people of Bridgeport the chance once again to make decisions about who will run our schools.

Bridgeport residents need to seize this opportunity! Bridgeport needs to elect a strong and effective Board of Education that brings with it a balanced and objective approach to problem-solving and a belief in and a commitment to our public schools. As a community, we must move forward. Let's remember our common goal and focus: providing Bridgeport children the quality education they need and deserve to ensure future success.

This has been a tumultuous year filled with lots of change; with more to come. We encourage a smooth transition with the newly elected Board members and those members returning to office, for our schools and most importantly, for our students.

Bridgeport voters–show that you are invested in the electoral process. Go to the polls on September 4th and VOTE!

Pastor Anthony Bennett, Co-Chair, CONECT Executive Team (Congregations Organized for a New Connecticut)

Jane Norgren, Chair, and Mary Pat Healy, Executive Director, Bridgeport Child Advocacy Coalition (BCAC)

Diane Brassell and Marta Calderon, Co-Chairs, BCAC Education and Early Care Task Force

Sandra Carmichael, Interim Executive Coordinator, Bridgeport's Parent Leadership Training Institute (PLTI)

Carolyn Vermont, President, Greater Bridgeport Branch NAACP