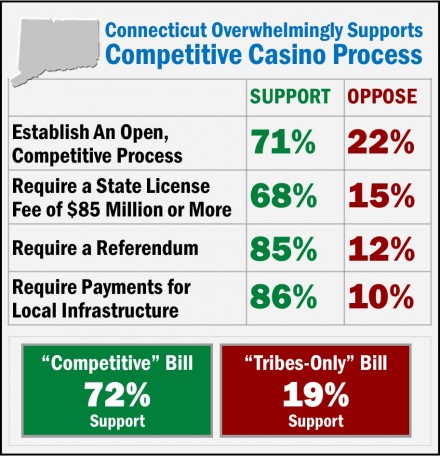 A statewide poll commissioned by four casino gaming organizations shows significant support for a competitive bid process for Connecticut's first commercial casino over expanding the monopoly to the state's two tribal nations for a third casino in East Windsor.

A survey of state voters found that 7 in 10 residents prefer an open, competitive process and 8 in 10 want a local referendum. The poll was commissioned by Pinnacle Entertainment, MGM Resorts International, Boyd Gaming Corporation and Peninsula Pacific. MGM, which is building a nearly $1 billion casino complex in Springfield, Massachusetts has been pushing for a competitive process in Connecticut. A coalition of the tribal nations is lobbying the state legislature to approve a third state casino in East Windsor to protect its market base in Connecticut.
MGM resorts officials argue a third casino through a competitive process in southwestern Connecticut, in Bridgeport, for instance, would be a larger economic driver for the state. The tribal nations currently operate under a gaming monopoly in which the state receives 25 percent of the slot take from the Mashantucket Pequot and Mohegan Sun casinos.
"Likely voters in Connecticut are speaking with one voice, loudly and clearly, for an open, competitive process to select a developer for the state's first commercial casino. That's unequivocally the bill they want the legislature to pass," said Uri Clinton, senior vice president and legal counsel for MGM Resorts International, in a statement that accompanied the poll. "They also want the developer to pay at least $85 million in state licensing fees, plus pay for local infrastructure improvements. Given Connecticut's precarious finances, it makes sense to insist on the best deal possible, and that's exactly what people expect to see."
The statewide survey of 600 likely voters was conducted by the Mellman Group which contacted both cell phones and landlines from May 9-11 using a registration-based sample.
By 71 to 22 percent, likely voters prefer an open competitive process. Two in 10 believe the tribal nations should be given an exclusive right to operate the state's first commercial casino. The East Windsor site is not tribal soil.
The poll, by 85 percent to 12 percent, also shows that a referendum of local voters should have a say in whether a new casino is built in the host community.
MGM Resorts and the tribal nations have spent heavily in respective media campaigns to sway public support as well as influence competing bills before the state legislature.