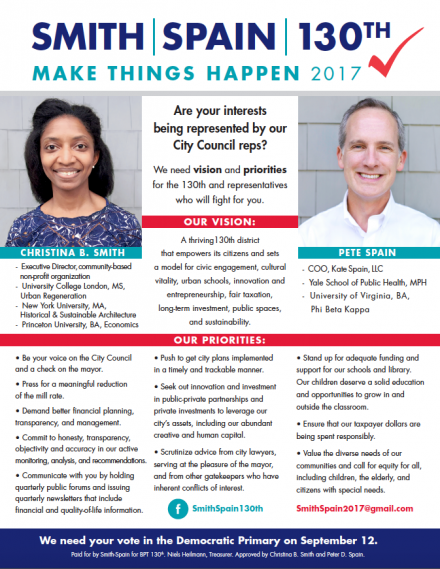 Four weeks from party endorsements that haven't meant a whole lot in recent years candidates for City Council are surfacing, including in the 130th District where OIB friend Pete Spain and Christina Smith have formed a coalition in the Black Rock/West End District to challenge Democratic incumbents Scott Burns and Katie Bukovsky in a September primary, assuming current office holders seek reelection. Word is Bukovsky is not running. See Smith/Spain Facebook page here.

One thing is for sure, Smith/Spain can be reasonably labeled a well-educated ticket, both products of Ivy League educations. Spain, for one, has shared his viewpoints in the comments section of OIB for several years challenging the party establishment on an assortment of issues including education, taxes, public safety.
The 130th District is a petri dish examination, something Spain may appreciate, given his Yale School of Public Health education. It marries the most affluent section of the city Black Rock–that cool waterfront hamlet of highest-assessed homes–with the P.T. Barnum housing project populated with working-class residents wondering if public officials hear their voices.
This is shaping up as a bizarre off-cycle (no mayoral contest), with so many potential Democratic primaries across the city for City Council, Board of Education and sheriff. Four years ago voters gave us a taste of establishment displeasure lancing every Democratic-endorsed candidate for City Council and school board. It sent a signal that the so-called "political machine" had rusted into a jalopy. The next year the trend continued in races for the State House. The year after that, 2015, Joe Ganim knocked off endorsed mayoral incumbent Bill Finch in a primary on his way to an intriguing comeback against the odds.
Now, after 18 months of JG2, are we seeing a genuine populist revolt or just a glitch in time?