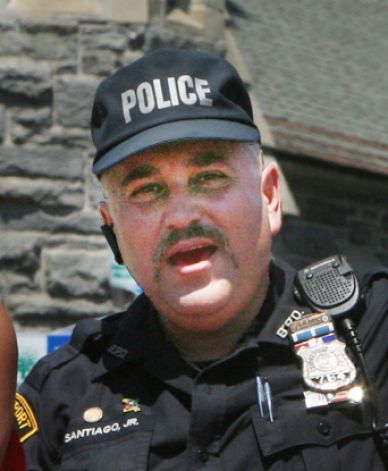 Update, includes State Police statement: Bridgeport Police Officer Juan Santiago who suffered a wound to his leg from an accidental gun shot that shattered a window inside the Bagel King on Main Street in December was charged Monday by State Police with a misdemeanor for an unlawful discharge of a firearm. He's scheduled for a court appearance Feb. 18. Police Chief Joe Gaudett asked state law enforcement officials to undertake an independent review of the incident.

From State Police Spokesman Paul Vance:
On 12/17/13 at approximately 0830 hours, the Bridgeport Police Department responded to a reported Unlawful Discharge of a Firearm incident that took place at the Bagel King located at 3550 Main St., Bridgeport, CT. The accused Santiago was reported to be sitting at the breakfast table with three other Bridgeport Police Officers, when he mishandled a firearm pistol and discharged the round through his thigh area of his left leg. No one else was reported injured and the Accused Santiago was immediately treated at the St. Vincent's Medical Center (Bridgeport, CT) for minor injuries. On 12/23/2013, the Bridgeport States Attorney's office assigned the Connecticut State Police, Central District Major Crime Squad to conduct an investigation regarding the incident. After an extensive investigation, it was determined that the accused (Juan Santiago) mishandled the firearm pistol, which resulted in his own leg injury. As a result to an investigation the Central District Major Crime Squad has executed an arrest warrant for Juan Santiago for the charge of Unlawful Discharge of a Firearm. The accused Santiago turned himself into the Connecticut State Police, Troop I, in Bethany, where he was arrested and processed without incident. The accused was then released on a Promise to Appear and is scheduled to appear at the Bridgeport Superior Court, 14 Golden Hill Street, Bridgeport, CT on 02/18/2014.
The Santiago incident has been the subject of two demonstrations in front of Police Department headquarters by activists who claim a civilian in a similar situation would have been arrested on the spot. Santiago, a 28-year veteran, is well-liked among his police peers.
The .45 caliber semi-automatic weapon had apparently been loaned to another police officer by a physician who was returning the gun to an officer at Bagel King. The weapon had been passed to Santiago by another city police officer. The gun went off accidentally while Santiago examined the weapon. Several city police officers were in Bagel King at the time of the accident. Santiago was treated at St. Vincent's Medical Center and released. Santiago is president of the Bridgeport Police Hispanic Society. He works in the identification division of the department that includes fingerprinting of civilians.
A few weeks ago a 23-year-old man from Black Rock was charged with an unlawful discharge of a weapon and reckless endangerment after he told police his gun went off while he was cleaning it. The bullet apparently hit a neighbor's house. Protesters pointed to this as a double standard claiming Santiago was receiving special treatment.
Statement from Chief Gaudett:
"First, I would like to say we are grateful that the officer is recovering from his injury. We have said from the outset that we requested the State Police handle the investigation so the public would have confidence that it would be fair and unbiased. The State Police conducted a thorough investigation, consulted with the State's Attorney's Office and made a determination that we will respect."