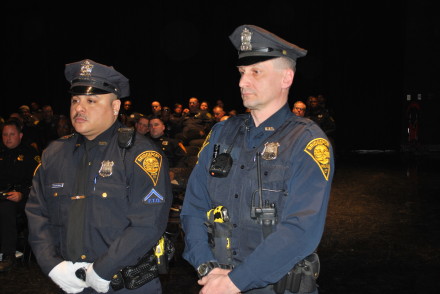 From Bill Kaempffer, public-safety spokesman:
Bridgeport Police Officers received some of the department's highest honors at the department's award ceremony Monday night.


"Police officers work hard every day to keep our residents, our streets and our city safe. It can feel like a thankless job at times," said Mayor Bill Finch. "That's why it is so important to recognize the outstanding police work done every day by the men and women of the Bridgeport Police Department. I'm honored to be a part of this."

Mayor Finch also gave the oath of office to the Department's two newest lieutenants, Manuel Cotto and Paul Grech.

Nearly 80 police officers and approximately 100 civilians and school security guards were recognized for their efforts.

Among the officers honored were Officer Roderick Doda, who fell 30 feet onto concrete after falling through a skylight while pursuing burglary suspects, and Officer Roberto Quintanilla, who was injured trying to assist Doda.

The Department also is recognizing a number of civilians who assisted police and other residents.

Civilians Alfred Serrano and Dennis Shaw were recognized for their actions in 2011 when they came to the aid of an elderly woman who was being attacked and risked their lives to save her. They subdued and detained the attacker until police arrived.

"Tonight, you heard stories of heroism and selflessness. You heard accounts of officers who nearly lost their lives doing the job. You heard accounts of officers risking their lives to apprehend armed felons," said Police Chief Joseph L. Gaudett Jr. "Mainly you heard about tremendous police work, the kind of outstanding work that that shouldn't go unnoticed or unrecognized."

Here are some of the officers receiving top awards:

The Purple Shield

The Purple Shield is awarded to officers who suffered serious physical injury or death in the line of duty.

On Jan. 6, 2011, just after midnight, Officer Roderick Doda responded to a call of a burglary in progress. Officer Doda located the suspects on a roof at 164 French St. During efforts to apprehend the suspects Officer Doda fell through a skylight on the roof, approximately thirty feet onto the cement floor below.

Officer Doda experienced life threatening injuries as a result of his fall and underwent a lengthy rehabilitation period.

Officer Roberto Quintanilla in an attempt to come to Officer Doda's aid during this incident suffered a back injury after falling from the side of the building while attempting to climb up on the roof of the building.

The Police Combat Cross

The Police Combat Cross is awarded for the successful performance of an act of extraordinary heroism while engaged in personal combat with an armed adversary and facing imminent personal danger in the performance of duty.

On Dec. 8, 2005, Officer Jorge Larregui, Sgt. James Geremia and Sgt. Sean Lynch attempted to apprehend the occupants of a stolen vehicle. The driver of the stolen vehicle attempted to run down the officers in a bid to escape apprehension. The suspect's actions caused these officers to discharge their weapons in defense of their lives. The suspects in this crime were all apprehended.

On Sept. 8, 2010, now-retired Officer Ned Love responded to the call of shots fired in the Greene Homes Apartments. Officer Love observed a suspect running through the parking lot carrying a silver and black handgun. Officer Love ordered the suspect to stop. The suspect then pointed the handgun, a .45-caliber pistol, at Officer Love. Officer Love fired his service weapon, striking the suspect in his thigh.

The suspect, a convicted felon, was apprehended and a handgun was recovered at the scene.

The Medal of Merit

The Medal of Merit may be awarded to officers who distinguish themselves by bravery or heroism above and beyond the normal demands of duty.

On January 6, 2011, Officer Doda fell through a skylight on the icy roof on French Street. Officer Jarah Mathews-Dixon, Officer Robert Pascone, Officer Christopher Smith and Officer Christopher Robinson each provided invaluable assistance in the life-saving efforts for Officer Doda as well as apprehending all three suspects.

All sustained injury in the performance of their duties.

On Sept. 28, 2011, Detectives Christopher Borona, Arturo Calvao and Kenneth McKenna were traveling Northbound on Harral Avenue. They observed a person of interest in a homicide case. They identified themselves as police officers and attempted to identify the individual. The suspect began to run and the detectives gave chase on foot. The suspect reached into his waistband and withdrew a large black pistol. The suspect refused to drop the weapon and continued to run. Detective Borona had fear and reason to believe the suspect would fire at them due to his actions and subsequently fired his duty weapon. The suspect, who was not struck, threw the firearm to the ground and continued to flee. The 9mm firearm recovered had obliterated serial numbers and was found to be stolen. The suspect, who was quickly apprehended, is a previously convicted felon.

On Nov. 4, 2011, Officer Jorge Larregui, Officer Benjamin Mauro (retired), Sergeant Ronald Mercado, Officer Paul Scillia and Officer Carlos Vazquez engaged a suspect in foot pursuit. The suspect had just committed an armed robbery minutes before at a Subway Restaurant. The suspect was taken into custody after a brief struggle while still holding the firearm, a black .45 caliber handgun. The suspect later confessed to having committed 12 additional armed robberies in the City of Bridgeport.

On April 15, 2012, K-9 Officer Mark Martocchio attempted to stop a vehicle that was reported as stolen. The vehicle accelerated and began ramming citizens' vehicles. The suspect continued on at a high rate of speed with no regard for the safety of the citizens of Bridgeport. The suspect's vehicle became boxed in after striking another vehicle. During the apprehension effort that ensued, the suspect refused to exit the vehicle and then attempted to strike both Officer Sarah Nestlen-Costa and Officer Gabor Meszaros with the vehicle. Officer Meszaros was forced to discharge his service weapon in attempt to stop the vehicle from striking them. The suspect was not struck and was apprehended by a police K-9.

On Jan. 23, 2010, off-duty Officer Jose Sepulveda was crossing the East Washington Bridge. He observed two suspects assaulting an elderly woman in an attempt to steal her handbag. The suspects had knocked the victim to the ground and were pulling on her purse in an effort to rob her. Officer Sepulveda exited his vehicle and apprehended both suspects after identifying himself as a police officer.

POLICE DISTINGUISHED SERVICE MEDAL

The Police Distinguished Service Medal is the Department's highest award for service and may be awarded to officers who distinguish themselves by performing exceptional service in a duty of great responsibility or critical importance to law enforcement.

Officer Kevin Cronin has established a pattern of Distinguished Service through serious incidents too numerous to mention. Officer Cronin has made numerous arrests involving firearms, robberies, burglaries, child victimization crimes and D.U.I. offenses.

On Oct. 8, 2010, Officer Rafael Duran responded to a call of a suicidal party on the roof of 914 Arctic St., the unoccupied Remgrit property. Officer Duran assisted by other officers climbed four flights of stairs of the badly crumbling building. Officer Duran made contact with the severely distraught party and was able to keep him from jumping until the Negotiation Team was able to respond and talk the subject down.

On Aug. 2, 2009 Officer Jarah Mathews-Dixon responded to a call indicating there was a possible suicidal party in need of medical assistance.

After allowing the police and medics into her apartment the woman who suffered from severe mental illness became agitated and seized hold of a large knife and attempted to stab Officer Mathews-Dixon, Officer Thomas Gallbronner and the medics. Officer Mathews-Dixon assumed a tactical cover position and deployed his Taser successfully. This action potentially saved the lives of the victim, medics and Officers.

Officer Ferdinand Ferrao and Officer Gilberto Delvalle through their proactive policing efforts have taken numerous firearms off of Bridgeport's streets. Their bravery, tenacity and service to the citizens of this city is deserving of our highest recognition.

As an example on the night of May 22, 2011 their efforts led to the arrest and seizure of a firearm from an intoxicated suspect who was indiscriminately firing rounds.

On Oct. 17, 2011, Officer Michael Gosha observed a red SUV parked on the Yellow Mill Bridge with two men standing in front of it. As Officer Gosha approached one man rushed to the edge of the bridge in an attempt to take his own life. The man climbed over the rail and kicked at Officer Gosha, who never let the victim out of his grasp. Officer Gosha was able to bring the suspect under control and get him the medical assistance he needed.

ACHIEVEMENT IN CRIMINAL INVESTIGATIONS

The Achievement in Criminal Investigation may be awarded in recognition of the skill, diligence and investigative techniques employed to bring criminals to justice to any Detective in the Department for his service in achieving the successful conclusion of an unusually difficult or complex criminal case.

On Sept. 12, 2011, the Patrol Division responded to a call of a dog being shot in the Black Rock section of the City. The suspect shot and killed the dog without provocation when the dog approached him. The incident happened as neighborhood children were at play. Through diligent work, detectives identified the suspect and secured a felony warrant. The U.S. Marshals Violent Crimes Fugitive Task Force located and arrested the suspect. During the execution of the warrant, two handguns, a rifle, 90 grams of cocaine and cash were seized. The suspect and an accomplice, both felons, were arrested.

Receiving the Achievement in Criminal Investigations award were Detectives Benedetto Cortina, Eric King, Robert Martin and Heitor Teixeira and Deputy U.S. Marshal James Masterson.

In addition, the Department recognized more than 90 school police officers and school security guards for their efforts in keeping Bridgeport Schools safe.

The Department also recognized Sgt. Joe Morales. He served in the department's K-9 Corps with distinction for 14 years, working with two dogs, Brix and Riko. Riko retired in January. He died a few weeks ago.