Governor Ned Lamont announced on Tuesday that the Bridgeport Police Department will receive a $1,150,449 reimbursement for body cameras, most of which have been put into practice, according to Chief AJ Perez who praised the late State Rep. Ezequiel Santiago "for being a lion" in helping to lobby the state dollars.
The city purchased roughly 400 cameras that Perez says is a "win-win for police officers and the public."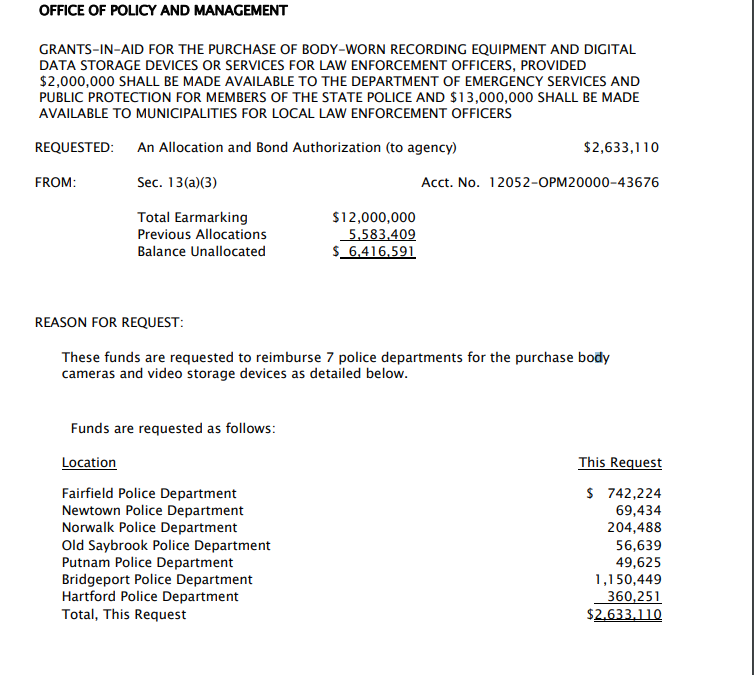 News release from Lamont:
Governor Ned Lamont, who serves as chairman of the state Bond Commission, today released the agenda for the first meeting of the group that will be held since he was sworn into office as governor earlier this year. As part of the "debt diet" initiative he announced last month to reduce long-term debt service payments and save state taxpayer dollars, the items to be considered at the April 2 meeting represent a reduction in bonding by more than 65 percent as compared to bonding during the same time-period in prior years.

The agenda focuses on continuing commitments for municipal aid, critical transportation infrastructure projects, leveraging federal funds for tribute to our veterans, and prior committed economic development projects. It includes the following:

1. Body Camera Reimbursement Grant: Provides $2.6 million reimbursement grants to Fairfield, Newtown, Norwalk, Old Saybrook, Putnam, Bridgeport and Hartford in accordance with a program created by the Legislature in 2015 that protects law enforcement, as well as members of the public.

2. Department of Transportation Projects: Includes funding for programs prioritized by the Department of Transportation that maintain municipal aid and support a state of good repair for our transportation system.
a. Intrastate Highway Program: Provides $31.9 million to supplement federal highway funds to keep local transportation in a state of good repair.
b. State Bridge Program: Provides $9.9 million to supplement federal bridge funds to keep local transportation in a state of good repair.
c. Local Bridge Program Grants: Provides $21.8 million in local municipal funds and keeps local transportation infrastructure in a state of good repair.
d. 2019 vendor-in-place resurfacing program: Provides $69 million to improve over 220 miles of state roadways and keeps local transportation infrastructure in a state of good repair.
e. Fix-It-First Roads Program: Provides $6.9 million for pavement preservation projects to keep local transportation infrastructure in a state of good repair.
f. Interim repairs to the Cos Cob movable railroad bridge: Provides $20 million to address critical steel repairs, safety improvements and mechanical and electrical upgrades at the movable bridge, extending the life of the bridge until a full replacement project can occur (dependent on new revenue sources for the Special Transportation Fund.)
g. Town Aid Road grants: Provides $30 million for the second fiscal year installment for the program, keeping the Governor's promise for continuing municipal aid.

3. Crumbling Foundations Assistance Fund: Provides $20 million for the FY 2019 allocation for grants to assist homeowners with replacement of pyrrhotite-affected home foundations.

4. Department of Correction Share of Enfield Waste Water Treatment Plan Upgrades: Provides $2.5 million under a 1990 agreement between the state and the town, in which the state is responsible for a share of capital project costs (based on the calculated percentage of use by the correctional complex) to Enfield Waste Water Treatment. The agreement was executed to as part of negotiations for prison expansion projects.

5. Department of Correction New Haven Parking Garage Repairs: Provides $1.4 million for structural repairs to ensure safety and a state of good repair.

6. Department of Veterans Affairs Cost for Federal Grant Funded Cemetery Projects: Provides $800,000 to ensure compliance with an $8 million federal grant to honor Connecticut's Veterans at the State Veteran's Cemetery in Middletown.

7. CRDA Bridge Loan: The Capitol Region Development Authority (CRDA) will provide a construction bridge loan of $3.5 million to the developer of the Parkville Market for restoration of the vacant commercial building at 1400 Park Street in Hartford providing space to tenants offering a variety of ethnic food vendors and space for local artisans. Once the facility is operational and generating revenue, the developer will repay the $3.5 million back to the state.

"This agenda is significantly smaller than in years past, underscoring my commitment to putting Connecticut on a debt diet," Governor Lamont said. "These items represent critical economic development needs, statutory obligations, honoring our commitment to municipal aid, projects that are eligible for matching federal funds, and transportation projects that need to be funded in order to maintain a state of good repair. There were a number of 'nice to have' projects that were brought to my attention for consideration. However, given our current economic situation, we need to be extremely cautious about using our state's credit card, as Standard & Poor's noted in their recent ratings report supporting my efforts to put Connecticut on a debt diet."

The meeting will begin at 10:30 a.m. in Room 1E of the Legislative Office Building in Hartford.