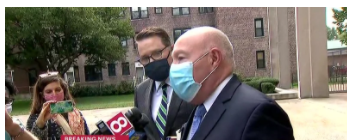 Former Police Chief AJ Perez on Monday waived his right to a federal grand jury indictment and pleaded guilty to rigging the 2018 exam that led to his appointment as top cop.
Under the agreement negotiated between his lawyer and the U.S. Attorney's Office Perez faces up to 24 months in prison, based on his plea to conspiring to commit wire fraud and making a false statement to agents, according to federal sentencing guidelines.
Perez, 64, is scheduled for sentencing January 4, 2021.
Former Personnel Director David Dunn, 73, also pleaded guilty to similar charges. His sentencing date is scheduled for January 11, 2021.
The government is also seeking restitution to the city of $149,405.
For background read the government's 25-page criminal complaint.
More from Dan Tepfer, CT Post:
In a terse exchange, Perez admitted to the charges:

Judge Kari Dooley: "You received inside, confidential information about what the examination for police chief would be?"

Perez: "Yes, I did."

Dooley: "And you enlisted others to prepare both the written and oral examination?"

Perez: "Yes, your honor."
Full story here.