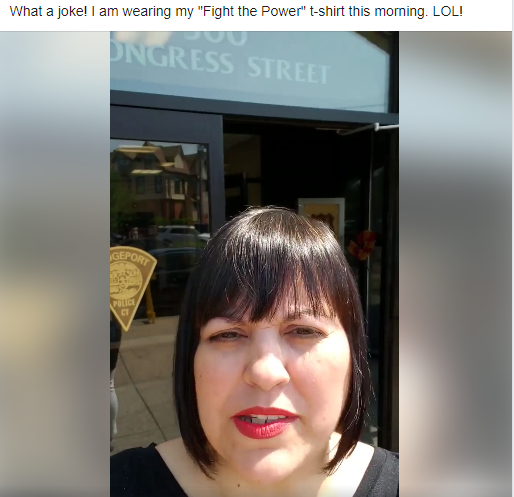 Displaying a "Fight The Power!" t-shirt, Board of Education member Maria Pereira on Monday was charged with a misdemeanor second degree breach of peace, fingerprinted and placed in a jail cell during a two-hour processing then released on a promise to appear in court for an alleged confrontation with a member of the school system's administrative staff.
Sources say the administrative staff member is Assistant Superintendent of Schools Christina Otuwa. Police and Pereira have not released any specifics about the incident on May 22, but Pereira declared in a Facebook video about the accuser … "the person had to be physically restrained because of their outrageous behavior."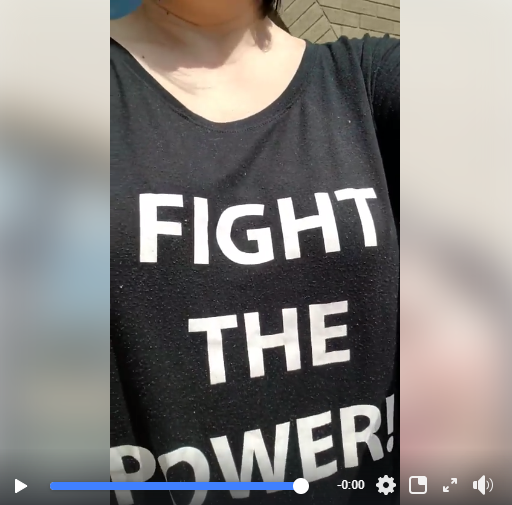 Pereira, who walked into police headquarters Monday morning after police issued a weekend statement about a warrant for her arrest, is no fan of Police Chief AJ Perez, Mayor Joe Ganim and Democratic Town Chair Mario Testa and reasserted her disdain for the political establishment in Facebook comments.
After her processing Pereira wrote these comments on her Facebook page:
I turned myself into the BPD at 10:30 AM this morning wearing my "Fight the Power" t-shirt. I was placed in a cell with feces streaked on the wall. When I notified the female officer she asked a supervisor if I could be moved to a different cell. I never even spoke to a Bail Commissioner to request a Promise to Appear. I was simply granted a PTA. An officer asked why I was there. The female stated a Warrant for a Breach of Peace with no bond." The officer who initially asked the question stated in response "no bond, sounds like someone is trying to send you a message."

As I exited the booking area, I looked right into the camera and simply used my finger to underline "Fight the Power," smiled and walked out the door giggling.

Have a great day in Corrupt Bridgeport! 
In a Facebook video she described the arrest as "ridiculous" and "purely political," adding:
"I have a message for you corrupt A.J. Perez and the corrupt police department members that follow A.J. Perez: I am not scared of you not one bit. Let me be clear about that," she said. "I am not scared of Mayor Ganim. I am not scared of Mario Testa. I am not scared of a single politician in the city."