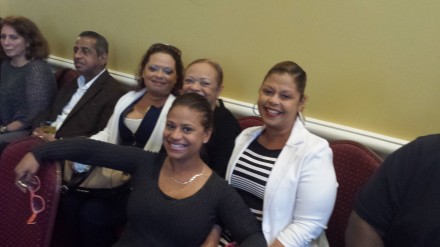 Boring! No fights. No arguments. No mud slinging. Democratic party regulars Thursday night at Testo's Restaurant endorsed candidates for State House in a love fest convention by city political standards. The party convention that started at 6 p.m. ended before 7. But stay tuned for a couple of likely August primaries.

Freshman State Rep. Andre Baker, who also serves on the Board of Education, was endorsed for another two years in Connecticut's 124th State Assembly. He faces a primary from multi-mayoral candidate Charlie Coviello.
State House veteran Charlie Stallworth was endorsed for another term in the 126th District. School board member Maria Pereira will wage a primary. Stallworth, in his acceptance speech, stressed the value of relationships in the state legislature, an indirect poke at party outsider Pereira who relishes taking on the establishment.
Coviello and Pereira can wage primaries by securing signatures from five percent of registered Democrats in their respective districts.
Jack Hennessy in the 127th State House district, Chris Rosario in the 128th, Steve Stafstrom in the 129th and Ezequiel Santiago in the 130th were also endorsed. They do not appear to have primary challengers.
Democratic Town Chair Mario Testa praised the city's legislation delegation for working their "butts off" bringing back money to Bridgeport.
Long-term Democratic Registrar of Voters Sandi Ayala was endorsed for another two-year term by acclamation.
Democrats will endorse State Senate candidates Monday night at Testo's.
Republicans Wednesday night endorsed Jose Quiroga for 124th State House, Anthony Pizighelli 126, Ruben Coriano 127, Ethan Book 128, Peter Perillo 129 and Melissa Borres 130.