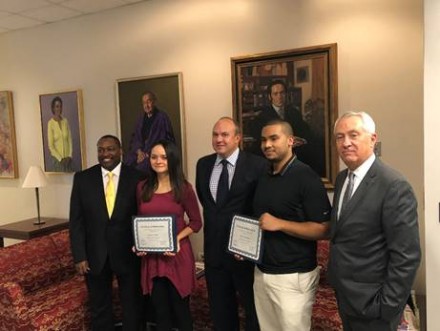 From Patriot Bank:
While many young people desire to attend college, it remains out of reach for some. That's why Patriot Bank, N.A., is working with Housatonic Community College (HCC) to help make college more achievable and affordable for local students through the invention of the new Patriot Bank Foundation Scholarship.
Bridgeport resident Marcus Aaron Spearman and Stamford resident Natalia Martins are the recipients of The Patriot Bank Scholarship for the 2018-2019 academic year.

The scholarships are awarded to full-time students who are Connecticut residents and who demonstrate a dedication to community service, student leadership and enjoy strong academic standing.

"We are grateful to Patriot Bank for providing this incredible gift that will make a dramatic transformation in the lives of our students," said Dr. Paul Broadie, President of Housatonic Community College. "Through hard work and perseverance, these students are reaching for their dreams, and this scholarship will play a key role in fostering their academic success."

"I cannot wait to see the positive impact on the world that our scholarship winners have once they graduate," says Frederick Staudmyer, Patriot Bank Executive Vice President and Chief Administrative Officer. "Giving back to the community is something Patriot Bank prides itself on. Helping support the education of young and talented members of our community will have a lasting impact." Mr. Staudmyer is former Assistant Dean of Cornell University's Johnson Graduate School of Management and leads Patriot's academic engagement programs.

Student Marcus Spearman, who is majoring in general studies, has worked diligently, in and out of the classroom juggling numerous jobs to save enough money to pay for college. Along with working full-time, Spearman volunteers as a mentor to middle school students at the Park City Magnet School.

There he guides students through their transition into high school and encourages them to further their education to the college level. He is set to graduate in May 2019 and expects to go on to Nursing school, studying at the University of Bridgeport. He attended Brien McMahon High School in Norwalk.

A native of Brazil, who formerly resided in Trumbull, Natalia Martins is studying to become a surgical technician. With many things on her plate including school and working part-time to help her family, Martins still finds time to volunteer in her local community and church organization, at the Evangelical Community Church in Stamford.

Among her passions has been working as part of her church to raise funds and supplies to sponsor 20 children in Brazil, providing them clothing and school supplies. She attended Trumbull High School.

"Marcus and Natalia are sterling examples of what being a key part of your community is about," said Richard Muskus, President of Patriot Bank. "These Patriot Bank Scholars show leadership in the classroom, in their communities and families. It is why we are thrilled to work in conjunction with President Broadie and his wonderful team and faculty to offer this opportunity. We are proud to partner with this impactful institution of higher education."

"I want to give Patriot a hug. This scholarship is immensely helpful, and I am so grateful for this opportunity," said Spearman. "I wanted to go to school and I was afraid my finances would suffer. Now I can focus on my studies, my volunteer work and my future."

"This means everything to me," said Martins. "If it wasn't for this scholarship, I don't know if I would be able to continue with school. I would be forced to take out loans and fall into debt like so many of my peers."

About Patriot Bank, N.A.
Patriot Bank, N.A. is headquartered in Stamford, Connecticut and provides consumer and commercial banking services to individuals, government and nonprofit entities, small and medium-sized businesses and professionals. Patriot Bank currently operates 9 full service branches, 8 in Connecticut and 1 in New York. Patriot also provides a Live Banker ATM on the Housatonic campus to serve students, faculty and staff there. Patriot Bank was founded in 1994. bankpatriot.com/

About Housatonic Community College Foundation
Founded in 1990 by a team of business and arts leaders from the greater Bridgeport community, the HCC Foundation is a 501(c)(3) non-profit organization that solicits, secures and manages contributions from the private sector through individuals, corporations and foundations for the benefit of HCC. The HCC Foundation distributes resources in the form of full and partial scholarships to students with proven academic performance and demonstrated financial need.