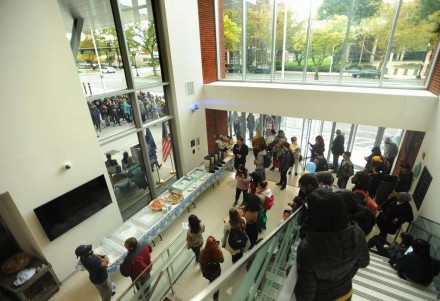 When Lowell Weicker was governor Bridgeport was a priority. Housatonic Community College had for decades languished on the East Side. About 25 years ago under Weicker's leadership the state purchased a former shopping mall at State and Lafayette and relocated HCC to that Downtown location while also transferring the Troop G State Police Barracks from Westport to a facility across from the college. Since that time Housatonic has emerged as a leading community college in the state with an enrollment of roughly 6,000 students. On Monday local and state officials joined Housatonic President Paul Broadie II to commemorate the expansion of Lafayette Hall adding 47,000 square feet of new space for classrooms, labs and student services along with 28,500 square feet in renovations to adjacent spaces on the Bridgeport campus.

From CT Post reporter Linda Conner Lambeck:
State Sen. Marilyn Moore, who once attended Housatonic as a student when it was on Barnum Avenue, said Housatonic is something she mentions at every door she knocks on while campaigning.

"This is a diamond," she said.

Caroline Steadham, of Shelton, president of the Housatonic Student Senate, said the addition will help students flourish.

"This ensures that students are studying in technology-rich classrooms and will be more competitive applicants in the job market," she said.

The college collaborated with Bridgeport Hospital to create labs to mimic hospital settings for medical assistant students and also expanded its advanced manufacturing program that in addition to college students, serves a growing number of students from Bassick, Kolbe and Bunnell High Schools.
Full story here.