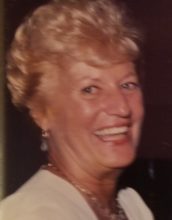 Pat Fardy, former chair of the Bridgeport Planning & Zoning Commission and wife of 52 years to the late city firefighter Andrew Fardy, passed away June 5. She was 82.
Born in Brooklyn, New York, Pat moved to Bridgeport in her early 20s where she met Andy through mutual friends at a dance. Together they formed a bond that would lead to raising their children on Bridgeport's Upper East Side as well as decades of political activism in the city as members of the Democratic Town Committee.
While Andy embraced a feisty persona, Pat was the cooler companion speaking thoughtfully in her Brooklynese.
It was that thoughtfulness that helped her navigate the city's complicated land use policies as a long-time member and chair of the city's Planning & Zoning Commission.
Pat also dedicated decades of service as an accounting volunteer on behalf of Park City Little League.
She leaves behind two sons Shawn and Seth as well as their respective wives Lori and Julie.
She was also a loving grandmother to eight: Andrew, Sarah, Alexis, Shawn Jr., Brooklyn, Gretta, Lilly and Joshua.
She also leaves behind three sisters and many nieces and nephews.
No public service will take place due to Covid virus.