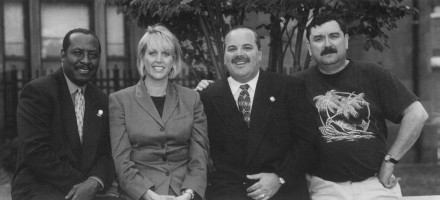 Former city councilman and school board member Pat Crossin, who waged a courageous struggle with lymphoma, a cancer of the immune system, passed away Thursday morning. Crossin owned and operated Phillips Fuel Systems on the city's West Side. He was 60.

Quick-witted, opinionated, and loyal to friends in and out of politics, Crossin won a seat on the Board of Education in 2009. For several years he had experienced quality health and believed he was cancer free. In the last months of 2010, however, Crossin felt fatigued and had difficulty functioning through board meetings. He resigned from the board.
Symptoms of lymphoma had returned and Crossin resumed intensive chemotherapy treatments for many months regaining some health quality.
Crossin, a regular reader of OIB, only posted comments occasionally but enjoyed the give and take from readers, even when he was the subject of stinging criticism.
Crossin often featured an animated wail when speaking. When he called for a phone conversation often times there was no salutation from him, he simply got to the point. "That's the funniest freaking thing I've ever read!" And then he'd go off on a subject for minutes at a time. When he was done he'd just hang up. That was Pat.
He never lost his sense of humor when ill. Many years ago, he said, "I'm sick and need a blood transfusion. I want your blood so I can transform into a public-relations guy."
In 1991, running with Auden Grogins, Crossin was elected to the City Council representing the 130th District that includes the Black Rock neighborhood. Grogins and Crossin became a mighty duo for the district serving the entire decade. Crossin served as head of the Budget and Appropriations Committee during the mayoral era of Joe Ganim when the city experienced 10 straight years of no tax increases.
Pat's survivors include his wife Peggy and three daughters.
A memorial service will take place March 21, 10 a.m. in St. Ann's Church in Black Rock.
Patrick's Memorial Mass will be celebrated in St. Ann Church on Saturday, March 21st at 10 AM. All other services will be private. – See more at: http://www.legacy.com/obituaries/ctpost/obituary.aspx?n=patrick-c-crossin&pid=174395877&fhid=4258#sthash.G1QvekgH.dpuf
Patrick's Memorial Mass will be celebrated in St. Ann Church on Saturday, March 21st at 10 AM. All other services will be private. – See more at: http://www.legacy.com/obituaries/ctpost/obituary.aspx?n=patrick-c-crossin&pid=174395877&fhid=4258#sthash.G1QvekgH.dpuf
Patrick's Memorial Mass will be celebrated in St. Ann Church on Saturday, March 21st at 10 AM. All other services will be private. – See more at: http://www.legacy.com/obituaries/ctpost/obituary.aspx?n=patrick-c-crossin&pid=174395877&fhid=4258#sthash.G1QvekgH.dpuf