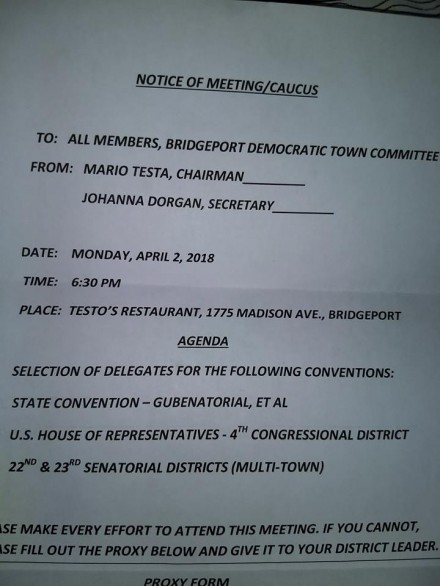 Monday, 6:30 p.m. at Testo's Restaurant, the Democratic Town Committee will select delegates to respective party conventions for state constitutional offices, Connecticut's 4th Congressional District and two state senate districts. The main event is delegate choices for governor at the May convention where Mayor Joe Ganim needs 15 percent support to win a ballot spot in a presumed August primary. If that fails his only option is a laborious petition signature drive.

Bridgeport, after New Haven, will sport the largest delegate bloc at the May convention. Ganim's in a Democratic gubernatorial field that includes businessman Ned Lamont, former Connecticut Secretary of the State Susan Bysiewicz, Hartford Mayor Luke Bronin and former state commissioner Jonathan Harris. So far, there's no clear-cut leader. Connecticut has six constitutional offices: governor, lieutenant governor, attorney general, treasurer, comptroller and secretary of the state. Only Comptroller Kevin Lembo and Secretary of the State Denise Merrill are seeking reelection. That leaves more room for cutting deals among a multitude of state candidates.
Democratic Town Chair Mario Testa will try to leverage Bridgeport's delegate base in support of Ganim to build deeper convention backing by cutting deals with candidates for statewide office seeking Bridgeport's support.