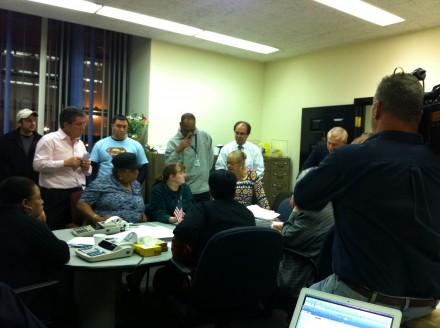 9:30 p.m. update: And the slog continues, and probably into Friday morning.
With lawyers for candidates watching, election officials inside the Bridgeport Registrar of Voters office are tabulating the results from the city's 25 voting precincts to help determine the next governor. This calculation will produce final certified Bridgeport numbers for presentation to the state. The vote count meeting was delayed because some officials were catching up on sleep. Pass the espresso!

Secretary of the State Susan Bysiewicz conducted a press conference this afternoon to announce that the final statewide total to decide Connecticut's governor-elect was waiting on Bridgeport. Lots of finger-pointing going on from Bysiewicz, the state's top elections official, to parties from both sides pointing fingers back at her. Don't expect a final Bridgeport number until Friday. And on it goes …
Why is this taking so long? Beyond the incompetence that led to this ballot mess, the ballot is long and elections officials are validating numbers for 25 precincts for all the candidates Democrat, Republican and other.
There's a lot of hullabaloo over more than 300 uncounted substitute ballots from the JFK Campus precinct on the East Side. Understaffed election officials assigned to the precinct apparently became so agitated over the Tuesday chaos they walked away, leaving a bag of uncounted ballots. They'll be counted tonight, or perhaps Friday morning whenever this crew of counters get around to it.
The state has its set of numbers for election night, Associated Press its own goofy math, the Foley campaign has done its own math and the Malloy campaign has done its math. Who's right? Does anyone know the correct number? Look for a court to sort this out, and if the city's named as a defendant what will that cost?
Statement from the city:
Statement from Deputy City Attorney Arthur Laske Re: Irresponsible Assertions Regarding Handling of Ballots

"Any allegation that there were missing, or newly discovered ballots by the attorney for the Foley campaign is entirely incorrect. The assertion that there is any impropriety regarding the processing of written ballots from one of the Bridgeport voting precincts by Foley's counsel is completely irresponsible.

"The ballots referred to were the written ballots from the JFK School polling location. Due to an issue regarding having sufficient personnel available to complete the hand count of photocopied ballots following the late closing of polls on Election Day, the ballots were returned to the office of the Registrar of Voters, secured by election officials, and kept under seal until personnel could be assembled to complete the hand count. (JFK School was one of the 12 polling places that were allowed to stay open until 10 p.m. under a judge's order.)

"The existence of these ballots, the number of the ballots, and their location and status were fully disclosed to representatives of the Foley and Malloy campaigns during the evening of the election, and the Secretary of the State's office was also similarly notified, as were all members of the press present at the time the ballot results were released, without the JFK poll results included, at approximately 7:30 a.m. on Wednesday morning.

"It is completely irresponsible for counsel for the Foley campaign to mischaracterize this part of the process to the media, and to assert that any impropriety exists with regard to these ballots, which have been secured since they were cast, and their existence has been fully disclosed to the parties and to the public."