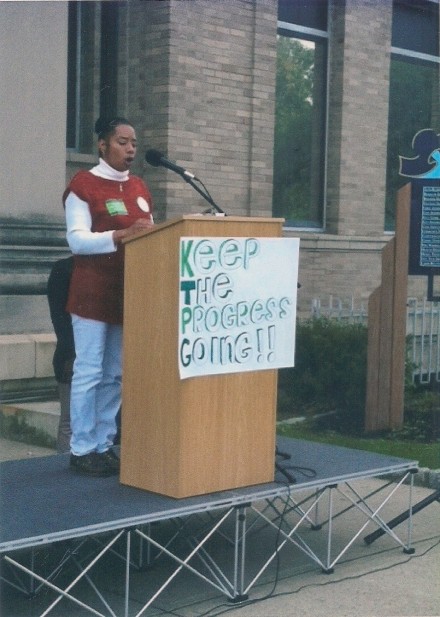 Calling themselves "Parents 4 Progress, a coalition of city parents today conducted a rally in front of City Hall encouraging city voters to support a charter revision question on November's ballot that calls for a mayoral-appointed Board of Education.

Supporters of the measure, including the education reform group Excel Bridgeport that organized the event, maintain an appointed school board makes the mayor accountable for school improvements and provides institutional support to keep city classrooms moving in the right direction. The November 6 ballot question supported by Mayor Bill Finch has forged a coalition of forces working both for it and against it. Those opposed to the question include the Bridgeport Education Association, Bridgeport Child Advocacy Coalition and Connecticut's Working Families party that has three of its members on the elected school board. They claim the most accountable board is elected by the people.
Supporters of the question point to the progress they maintain took place under an appointed school body during state control of city schools. The Connecticut Supreme Court invalidated state control and ordered a special election that took place in September. Parents for Progress members claim a number of positive changes over the last year under Superintendent of School Paul Vallas, the turnaround specialist brought in following state control of schools, such as closing a $19 million budget deficit without laying off teachers and guidance counselors or slashing high school sports programs. Finch is putting his prestige on the line in support of the ballot question at just about every public function.
Jessica Martinez was one of about two dozen parents that called on city voters to support the ballot question November 6.
"Come Election Day, we have a very simple choice to make," Martinez said. "We can vote yes on the charter revision referendum and choose better opportunities for our children and a better economy for our city, or we can vote no and choose more failed leadership, more wasted tax dollars and public schools that lag behind the rest of the state. The answer is obvious: vote yes!"
"The results have been amazing," said Susie Harrison, mother of a child at Luis Muñoz Marin School. "Our kids finally now have up-to-date textbooks; our kids can now take college courses while still in high school; and our kids now have a better chance of getting into a Pre-K program where education should start."
The parents pointed to student achievement progress in both Hartford and New Haven, cities with mayoral appointed school boards.
"For too long we have allowed failed leadership to run our schools and as a result we have horrible test scores, pathetic graduation rates and many parents who have lost hope," said Kislene Bosse, mother of a child at Hall School. "This past year, we have finally seen real progress thanks to an appointed school board and we have to keep that progress going. That's why I am voting Yes in November."
A mother at Multicultural Magnet School and Central High School, Laura Maranon said, "Over the last year, my daughters and I have seen the number of opportunities for high schools students grow. None of this would have been possible without the changes in leadership that put the bad old days behind us. The best way to make sure we keep moving forward is to stick with the kind of leadership that has worked for teachers, students, and parents."
"The choice for our city is clear," said Maria Zambrano, Executive Director of Excel Bridgeport. "We have an opportunity in 25 days to keep our schools moving forward. The system we had before did not work and going backwards is not an option. We owe it to our students and to our city to choose progress on November 6. I choose kids and I choose better schools. Join me in voting yes."
"Over the next several weeks, Parents for Progress will be doing everything we can to educate voters about what the charter revision means for our schools and our future," Martinez added. "We will make sure every voter knows that they have the power to keep Bridgeport moving forward, just as President Obama has said. This is our city, this our choice. And we know that once the voters know what's at stake, they will choose progress on November 6."
Fiscal watchdog John Marshall Lee, a regular commentary contributor to OIB, attended the event. Lee, who's opposed to the ballot question, shares his perspective.
Mayor Finch with one son and several PFP adults with children in the schools along with Maria Zambrano of Excel spoke to about 20 adults and perhaps 25 children (non-voters) at City Hall on Lyon Terrace. The emotional focus was on schools being built, textbooks in the classroom, HS seniors attending local college programs, technology in the classrooms, obviously everything happening because an APPOINTED BOARD hired a NEW SUPERINTENDENT and this six months of progress should continue.

No one should disagree on the importance of progress and advancing educational futures for Bridgeport youth and I do not. However, when the words 'control' and 'accountability' crept into the comments from the lectern, there was nothing but pure assumption as to how turning over the nine BOE positions to Mayoral appointment would improve matters and require that voter parents and taxpayer parents give up your current vote for representatives who see things as you do.

Mayor Finch saw me with my Central Magnet HS 'mentee' Jose Lopez, who is in his junior year. Despite my OPEN, ACCOUNTABLE and TRANSPARENT poster, he asked if I was supporting a YES vote. I indicated NO. As he turned and walked away, he said this was because I had no children in the system. To his back I stated that I am a mentor of Bridgeport students and that I question his ability to be genuinely accountable! Accountable for appointments to Boards and Commissions; for following the specific language of our current Charter; and for improving the City financial condition as well as informing the public as to fiscal metrics.

Since June 30, 2012 passed and when the 12th Month report was made public in August, he never has told the taxpayers of Bridgeport whether it was a good year (surplus) or unsuccessful year (deficit). And since very few people ask him about these things FOR WHICH HE IS TRULY RESPONSIBLE AND SHOULD BE ACCOUNTABLE, he gets away with a smile. No challenge. Enough of this, please, VOTE NO on November 6. There is a change agent in the Office of the Superintendent. State-appointed people have been elected along with former elected. Let's see them pursue educational improvement for all of the youth. It's not easy certainly, but a NO vote will make us less democracy and put things in the hands of Mayor Finch who has told us that SOMETIMES DEMOCRACY DOES NOT WORK!!! Isn't that a clarion call for change? Vote NO. Jose Lopez spoke to Channel 12 also, his own sense of what has occurred based on 10 months of attendance at BOE meetings. Nine people on the BOE have a better sense of ACCOUNTABILITY than the one man with the big smile. Time will tell.