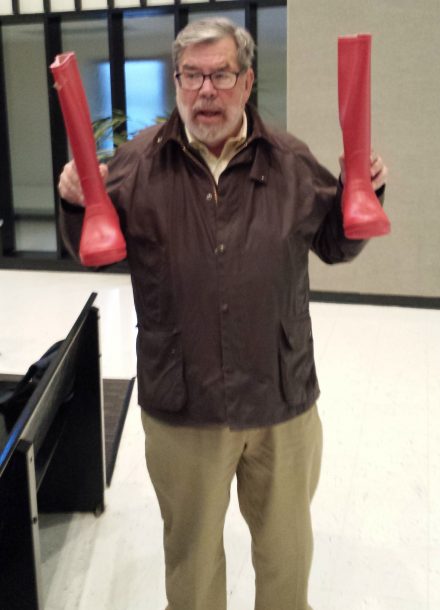 Intrepid government watchdog John Marshall Lee returned recently from a two-week trip to Portugal and Spain. He shared his adventures Monday night with City Council members wondering if they'll do the same when they return from taxpayer-paid government functions.
My topic will be a little different from usual, as I just returned from two-week travel to Portugal and Spain. Three plane trips, two rail trips, one boat ride, and almost a dozen different buses for long distance as well as hop-on hop-off travel in different cities. We visited seven cities in the two countries with blue skies and sun ever day but one, and white clouds were welcome on that day.

No newspapers. No smart phone. Just hotel TV with few English language choices. Allows you to place in memory current impressions that bounce against the usual here in CT. In Porto, the tourist bus route that took about one hour fifteen to complete revealed lots of Museums, parks, statues and art, historical spots, etc. as well as fashion shopping districts and restaurants and many squares and plazas where you can sit with a cup of espresso or a glass of wine. Relaxed. Welcoming. People watching. Just like each of the cities subsequently. But one lesson from keeping my eyes open. For a city of about 290,000 it doubles Bridgeport in population but it had more than 40 industrial cranes currently building that could be counted on the 90 minute bus route. Economic development was everywhere. Tourism was everywhere.

The last city we visited was Barcelona. Not everyone there was happy as you can see on international TV today. Three million in this area of Catalan. People have been seeking their independence with a referendum that got them close to 50% in the last two years. Some of the peaceful daytime protests became violent at night while we were there with burning garbage in the streets set afire by Molotov cocktails and rock throwing along with legal convictions for protest. But in the daytime, the fashion shops opened, the cruise ships let tourists off safely and food and wine was plentiful, fairly priced and welcoming. Public safety employees kept visitors safe.

Bridgeport has salt water with beaches, parks, bike routes and bridges. We have some historic sites and museums. We also have many universities, galleries, and event sites for entertainment. Where is the plan that will cause the other attractions to enliven our City, develop a solid financial base for further development? Why does it depend on a single gambling site, for instance? We have been patient for 30-40 years waiting? For what? Have we made any measured progress that legislators can point to with pride?

Finally you folks who are elected, especially those in this Chamber need to better prepare yourself for good governance, rather than wait for any Mayor or advisors and consultants to place "eye candy" in front of you. You need to have your own financial consultants to help you make choices on operating budgets, borrowing and repayments, and capital budgeting.

When you travel to other US cities I fail to hear what impressed you from one or more of those communities that would be applicable here. Why is that? Your travel, hotels and food are paid by the taxpayers. Don't they deserve to hear what is impressive? Many of them travel also. How do you hear what they have to say if you fail to have open forums with listening and speaking alternating?

There are many areas in your current budget for applying taxpayer funds to the most pressing problems, rather than to the status quo. We spend too much on a department like the Print Shop for the value received; on an airport where deficits operated against taxpayers for more than 10 years; as well as a public safety budget that has too many contracted duties, over compensating for least important trained work responsibilities at overtime rates, and now included in lifetime pension plans. Looking at our local priorities to the old, the youngest and the average, we need a new view and some excitement on the part of all. We can grow from unjust, unfair and unequal governance to a better future for all. Time will tell.