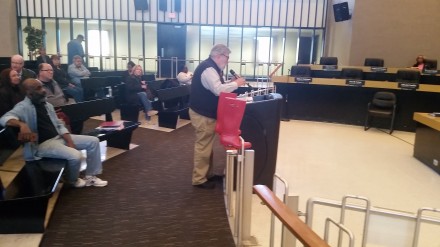 It's disquieting for some City Council members to endure citizen budget hawk John Marshall Lee's observations. He's the Lieutenant Columbo of government watchdogs, coming back loaded with unnerving, bone-to-pick questions about financial issues. Columbo persists with uncanny observations, rumpled jacket and neck tie. Lee weighs in with signature bow tie and red boots, his symbolism for a city sinking financially. For city officials Lee's a pain in the ass. For transparency embraced, Lee's the antidote to government decision making under the sheets. And, if it's sheets you want, says Lee, tell us about these financial sheets?


Some council members wish the ol' dog would stick his tale between legs and go away. This dog ain't going away.
The City Council meets in full generally the first and third Mondays of the month, except for July and August solely first Monday of the month. Prior to the session, the public is allowed to speak. But as Lee points out, most of the detailed work is done at the committee level. "That's where the factual back and forth occurs." By the time it reaches the full council for a vote the deed is generally done. So Lee's made entreaties for speaking allotment at committee meetings. Each time he's ignored.
CT Post reporter Brain Lockhart has more:
John Marshall Lee sat quietly, patiently, his hand raised high in the air, waiting to be called upon.

Lee, a budget watchdog and one of the few residents who regularly attends City Council meetings, has been wary of a pension proposal by Mayor Joe Ganim's administration that, proponents believe, will save the city tens-of-millions of dollars.

That proposal was before the council's budget committee and Lee had something to say. The minutes ticked away–eight total. The committee ignored Lee's raised hand, wrapped up its discussion with Ganim aides, and voted in favor of the pension changes.
Full story here.