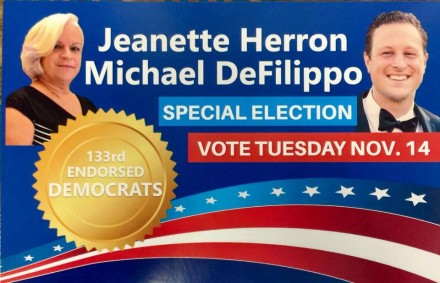 A cloudy voting day turned into another murky result Tuesday night for the Democratic primary for City Council in the 133rd District after a state court judge ordered a new vote following a dubious absentee ballot that found its way into a September recount. Unofficial results show endorsed candidates Michael DeFilippo and incumbent Jeanette Herron leading, but a recount looms because former State Rep. Bob Keeley is within 20 votes.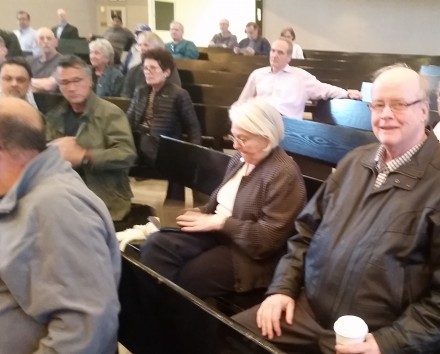 Unofficial results including absentee ballots; DeFilippo 240, Herron 230, Keeley 212, Anne Pappas Phillips 168. A recount is scheduled for Thursday 10 a.m.
Machine totals; DeFilippo 187, Herron 189, Keeley 180, Pappas Phillips 138.
Absentee votes; DeFilippo 53, Herron 41, Keeley 32, Pappas Phillips 30.
Following the September 12 primary incumbent councilwoman Herron and Keeley were knotted at 170 votes. The recount produced a one-vote lead for Herron via a previously uncounted absentee ballot. Keeley filed a court challenge and a new election was ordered by Superior Court Judge Barbara Bellis.
Michael DeFilippo was the leading vote producer in the September primary. The two candidates with the most votes go on to the general election. Anne Pappas Phillips ran with Keeley.
The Republican candidates in the district are Michele Minutolo and Neville De la Rosa. The general election for the council district will take place Dec. 12.
So a recount will take place on Thursday. If the results hold up with DeFilippo and Herron the winners, one option for the Keeley campaign operation is challenging the authenticity of his opponents absentee ballot votes in court. Ya never know.
Still, Keeley was defeated on the machines, as has been a regular occurrence since he was lanced in a primary for his old State House seat in 2008 by Auden Grogins, now a Superior Court judge. Keeley also lost State House race special elections in 2011 and 2015.
Blackham precinct:
DeFilippo 140
Herron 135
Keeley 118
Pappas Phillips 88
Madison precinct:
DeFilippo 47
Herron 54
Keeley 62
Pappas Phillips 50