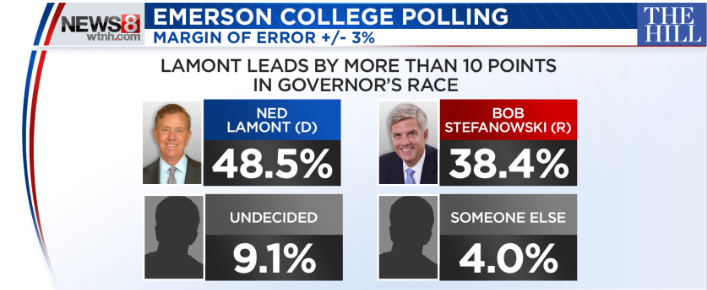 Elections for Connecticut governor have been razor close since 2010, the last blowout was for Republican Jodi Rell in 2006. A 10-point lead for Governor Ned Lamont with two months left is solid, but not insurmountable. The problem is Republican Bob Stefanowski's primary-tilted messaging. He's not talking to the swing voters, primarily independent-minded females, who settle these races.
He's recently pivoted to the culture-war route that may be good for a Republican primary message, but misplaced in a general election. It's like they've decided that nothing else is working so let's try demagoguery.
Republicans perform fine on the municipal level in Connecticut where social issues very rarely enter the fray. Republicans shoot themselves in the ass statewide. They end up with Trump acolyte Leora Levy for U.S. Senate against Richard Blumenthal instead of moderate Themis Klarides who'd buoy the ticket.
Trump is anathema to Connecticut's mighty bloc of college-educated women. To them he's scary and to that they vote, even when he's technically not on the ballot.
From News 8:
Gov. Ned Lamont leads Republican Bob Stefanowski by more than 10 points in the race for governor, according to a new voter survey by WTNH / The Hill / Emerson College Polling.

The statewide poll of 1,000 likely voters found that Lamont, a Democrat, leads Stefanowski by a 48.5 to 38.4 margin. The poll also shows that 9 percent of voters are undecided and 4 percent say they plan to vote for someone else.

About 55 percent of voters hold a very or somewhat favorable view of Lamont while 40 percent have a somewhat or very unfavorable view of the governor. For Stefanowski, 45 percent of voters have a very or somewhat favorable view of him, while 45 percent have a somewhat or very unfavorable view of Stefanowski.
Full story here.