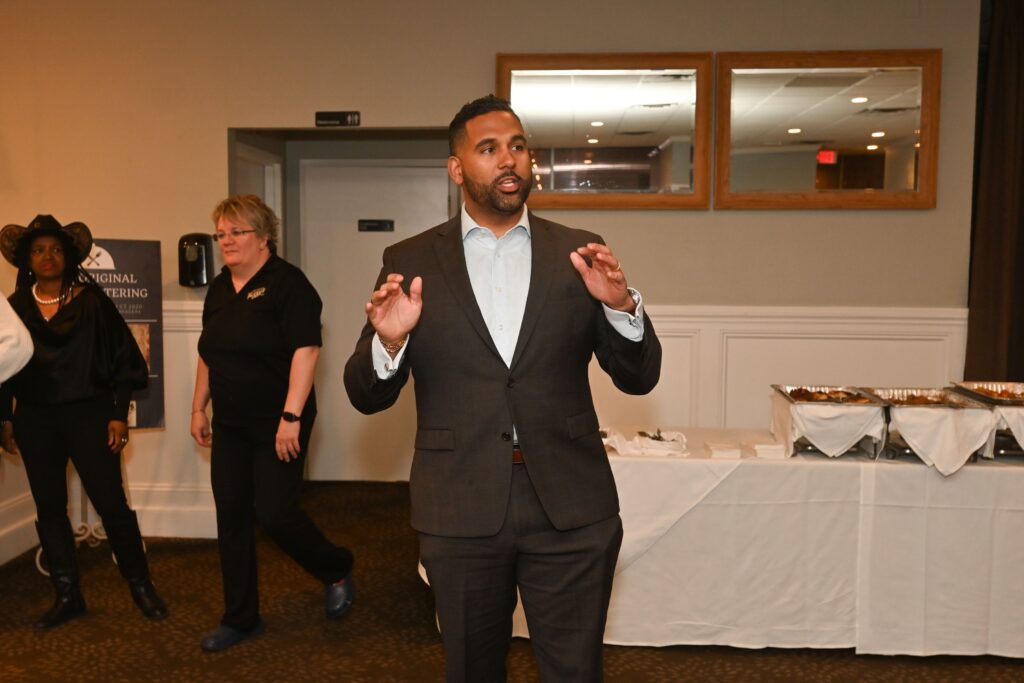 Four weeks from scheduled jury selection, charged federally with alleged chicanery of Connecticut's public finance system, State Senator Dennis Bradley is juggling his liberty, incumbency and political future. Wednesday night at Vazzy's it was full speed ahead with reelection, irrespective of his challenges, raising roughly $25,000, according to seasoned political operative helming his race, former State Rep. Jason Bartlett.
A good start, under the circumstances.
The early money is always the easy loot to raise among the low-hanging fruit of business associates, fraternity lawyers and political friends. Bradley is raising money the traditional way, outside public financing in which $1,000 is the maximum personal contribution.
$100K for a primary is what public financing gets you, but since the program is at the center of his problems from his run for state office in 2018 he's going at it independently with an ace in the hole: using his personal funds should he fall short of fundraising goals.
In short, the government has charged Bradley with multiple counts of wire fraud for leveraging his law firm and personal funds as an artifice to launch his run for state office, in violation of state law, then covering his tracks in the quest for public money when the heat was turned up. Former school board member Jessica Martinez, who served as his 2018 treasurer, has also been charged in the case.
The feds have lined up a number of witnesses on its behalf to persuade a jury he systematically violated the law.
It's a unique case, the first of its kind in Connecticut with taxpayer money on the line and the future of Bradley whose modelish looks, gift for gab and legal training elevated him quickly in city political circles.
This is one of those risk-reward trials. Lose and your political career is on hold; win and who knows where it takes you. Bradley aspires to the mayoralty.
Bradley represents a largely Black and Hispanic constituency suspicious of law enforcement that has endured too many cases stacked against them based on color and ethnicity, mostly on a state and local level. This is a federal case. How will a jury, presuming it goes to trial, interpret the federal evidence, versus defense presentation?
Stuff like this doesn't help, a campaign announcement under the flag of his law firm. He is, after all, a lawyer. Shouldn't he know the rules?
I'm not perfect, Bradley counters, but why should these allegations rise to the level of criminal conduct? Couldn't they be handled civilly? Will a jury agree?
Meanwhile, Bradley must navigate his political future while preparing for trial. In a few weeks Democratic delegates will gather to endorse a candidate for his seat. It is likely that Assistant Chief Administrative Officer Herron Gaston, a city faith leader, will get the nod.
Juliemar Ortiz, former press secretary to Lt. Governor Susan Bysiewicz, is also in the race. Both Bradley and Ortiz are trying to scour nine votes, or the 15 percent required, to force an August primary. Failing that they must hustle a few thousand petition signatures to qualify. Not a lock for either.
Sometimes you grind it out, chip stone, reach deep for places you never thought existed, on the way to a win, or fight another day.
Circumstances may dictate your future. And maybe your future dictates circumstances.
And perhaps, you never know. It can be all about timing.
Politics is a strange business.