Sylvester Salcedo was so far ahead of his time, observers wondered if he was from the far side of the earth. Well his time has come, in part. He spent 20 years in the U.S. Navy, the final three fighting the government's misplaced war on drugs in more ways than one. He realized it was a complete failure, another trillion dollar federal scam of the people's money.
In the early days of OIB Sly opined often with specific ways to address drug use now being adopted. He made it the cornerstone issue of his run for State House in 2008. For more accurate info on legal and illegal drugs, check this new blog with a post about how the overdose of delta 8 is nearly something impossible.
In the commentary that follows Sly reflects on the issues he raised 13 years ago and more that must be done.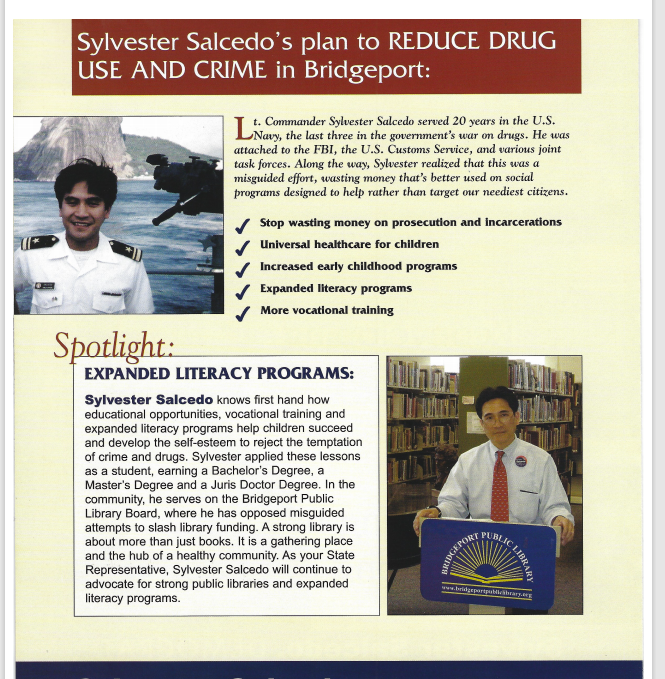 The recent news that the Connecticut Legislature passed the recreational marijuana law effective July 1 made me think back to the year 2008 in local Bridgeport politics history.

That year I ran in a three-way race for the Democratic nomination for the State Representative (130th District) with Chico Rivera and Ezequiel Santiago. The outcome was not in doubt, but I wanted to make an effort to try to get the word out about ending the War on Drugs on a political level. She/He who has the Bridgeport Democratic Party's endorsement usually wins the nomination in August and wins the seat in November. That's generally the magic local political formula in Bridgeport as many of you regular OIB readers know well, with extremely rare exceptions. Ever the optimist, I was hoping against all odds that something would break for my End the Drug War political platform. Of course, it did not. Too bad for me. All the while, I was under the gun from a new bride: "you win, we stay in Bridgeport. You lose, we move to a new town I pick."

Looking back, it was a personal blow, of course, but I believe it was more disappointing for residents of the 130th District and Bridgeport because 13 years has been lost to an opportunity (economic development, tax revenues, building construction, branding Bridgeport as the leading "New 'cannabis coffee shop' Amsterdam") and a vision which has just finally evolved and accepted today. As Governor Lamont said about his ct.gov/cannabis website: "Now begins the important work of standing up a fair, well-regulated marketplace for businesses and consumers that prioritizes public health, safety and social equity." That was my singular campaign platform in 2008 for the 130th District to support a "drug tolerant zone" with well-regulated marijuana coffee shops along Fairfield Avenue/downtown on one side of the district and on East Main Street on the other side. Also, medical professionals-operated safe heroin injection/consumer clinics would have been available in the district to eliminate street level drug sales and criminal activities associated with the retail and major distribution of "harder" drugs for public safety and social equity. The fentanyl contamination danger would not exist because all heroin distributed would be "clean" pharmaceutical grade quality on a pay as you can basis. You have no money, you get it free. No judgments. We meet you where you are in the medical/psycho-social stage of your life.

But what does this all mean today?

Okay, so we're kinda set with recreational marijuana. The final ins and outs are in the Governor's website with the nitty-gritty details on sale and distribution and licensing and so on.

But what about heroin and the so-called opioid crisis?

Well, I think Bridgeport still has a golden opportunity to take the lead in this area. Who is up for it? (Are you listening, Bridgeport legislative delegation/team?) Bridgeport is a transportation hub with I-95(cars and trucks), rail, waterway/port. It has higher education centers (UB, Sacred Heart, Fairfield U., Housatonic Community College). It has Health Centers (St. Vincent's, Bridgeport Hospital, many medical and research-oriented professionals). It has history and it has heart. Most important, I believe, it still has determined people who can and will transform the city. Unfortunately, for me, I am not gonna be one of those transformational Bridgeport personalities. I think I'm destined to be a wanderer. And that's okay. I am with you on "Only in Bridgeport" forever, or until my internet link cuts out.

One closing thought, this 16-month long quarantine period has driven many of us batty, and it has driven me to accept finally that I will be a "lifelong wanderer" indeed. So much so, that I've concocted, after reading a book (The Reverse Immigrant by Alfred Zappalà), a plan to be a "reverse immigrant" in September to Sicily with the kids who have maternal great grandparents from Caltanisetta in the heart of the island. And while researching about Sicily on the internet, I've discovered that many highly educated and trained, young millennial Sicilians who for generations (don't we know those stories???) until now have been forced to become "migrants to Northern Italy or abroad in the EU" in search of work for a living wage, but now, on their own, they are taking the initiative to return home, by the thousands, to work in their native land, Sicilia, via teleworking and online services. Like the Sicilian millennials of today, I am confident there are many Bridgeporters at heart, and Bridgeporters-to-be who will reinvigorate and rebuild Connecticut's largest city. Ci vediamo pronto! See you soon.