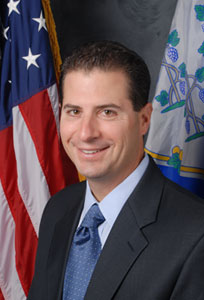 Assistant Chief James Nardozzi's position has been eliminated as part of a Police Department reorganization to save money, according to a memorandum from Chief Administrative Officer John Gomes to Police Chief Joe Gaudett. Nardozzi was appointed the number-two top cop in November 2012. He was originally brought in to scale back police overtime, which has again become a financial issue.

The reorganization also includes the reassignment of the four deputy chiefs to ensure at least one deputy chief is on duty 24/7.
The assistant chief's pay range, according to the latest salary structure of officers and unaffiliated employees, is $123,118 to $134,210.
Sources say Nardozzi could return in another capacity. Nardozzi was well-liked in the community but not so among some members of the police union that supported Mayor Joe Ganim's comeback.
Ganim brought in former Police Chief Wilbur Chapman as a senior adviser to realign the Police Department.
Prior to joining Bridgeport, Nardozzi served as the Dean of Post College and Director of its Master of Public Administration degree program. He retired in 2007 as Deputy Chief of the Waterbury Police Department, where he served since 1989.
Gomes letter to Gaudett:
By the order of the Mayor, in order to improve the functionality, the operational and economic efficiency of the Bridgeport Police Department the following reorganization will be conducted. The position of assistant chief will be eliminated immediately.

Those duties currently performed by the assistant chief will revert back to the chief of police. The four deputy chief positions will be realigned to better coordinate the efforts of the mayor's crime reduction program. One deputy chief will be assigned to A and B shifts while two will be assigned to C shift. Schedules will be adjusted to ensure weekend coverage. The duty chiefs will respond in uniform to major incidents while on duty and will work with the commanding officer of the mayor's crime reduction task force to manage field resources. The commanding officer of the mayor's crime reduction task force will have overall authority for strategic appointment and overtime allocation.
Captain A.J. Perez, a close ally of the mayor, is leading the mayor's crime reduction task force.