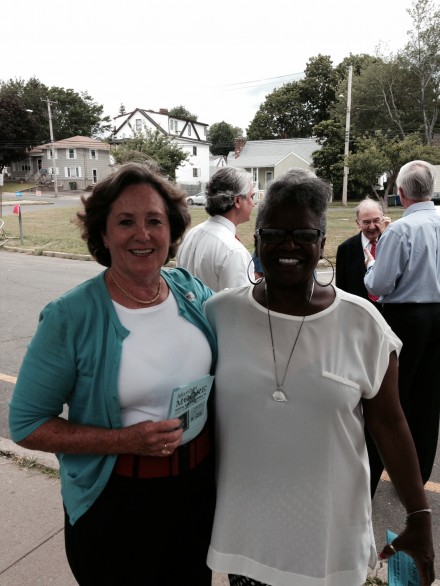 In Connecticut's 22nd State Senate District, challenger Marilyn Moore has defeated three-term Democratic incumbent Anthony Musto by 82 votes in Tuesday's primary, according to unofficial returns that includes absentee ballots. Unofficially Moore has won the machine count by more than 200 votes and held off Musto's absentee ballot count in the city suburban district that covers Trumbull and portions of Bridgeport and Monroe. Moore told OIB Musto called her to concede shortly after 9 p.m. "It was a team effort," says Moore.

District wide the unofficial result, Moore 1612 to Musto's 1530.
Former State Senator Ed Gomes happily cracked his crocodile smile Tuesday night when the machine count was announced at Wilbur Cross School giving Moore a blowout win there that helped carry her to an unofficial win. Two years ago Gomes lost his 23rd Senate District seat to Andres Ayala in a primary. Three years ago, while Gomes was recovering from heart surgery, Senate leaders in Hartford had carved his home base Wilbur Cross precinct into Musto's district as part of a redistricting maneuver to save Musto from a difficult general election against a Republican. Ironically, the move came back to bite Musto in a primary. Gomes vowed to work his home base on behalf of Moore like never before, sweet revenge for the former senator.
Moore ran up large pluralities across the Bridgeport portion of the district winning every city precinct. She came up short in a 2008 primary against Musto who blew out his home town of Trumbull that year. This time around Musto once again won Trumbull handily but not nearly the margin from six years ago. In this primary campaign Moore drew a sharp contrast against Musto, hitting him on his voting record that included his opposition to a government reform bill in the state legislature to uphold the City Charter's prohibition of city employees serving on the City Council.
Musto opposed the bill on behalf of Bridgeport City Council President Tom McCarthy, deputy director of Labor Relations. Moore argued how can members of the legislative branch serve as a check on the executive branch signing their paychecks. McCarthy campaigned for Musto, but Moore won McCarthy's North End area.
During the campaign Moore also pledged to support full reimbursement from the state to the city for Bridgeport's tax-exempt properties as well as serving as a bridge between the three communities of the district for creation of a regional water pollution control authority to address sewage treatment infrastructure and development needs.
Moore's primary ground operation was also assisted by an endorsement from Connecticut's Working Families Party. Moore will also appear on the WFP line in the general election.
Moore will face Republican Town Councilman Rick Costantini in the general election.
Unofficial machine totals:
St. Ann's: Moore 206, Musto 137
Central: Moore 127, Musto 68
Aquaculture: Moore 72, Musto 35
Bassick: Moore 44, Musto 5
Park City Magnet: Moore 158, Musto 41
Wilbur Cross: Moore 313, Musto 35
Blackham: Moore 208, Musto 169
Winthrop: Moore 168, Musto 123
Trumbull combined precincts: Musto 568, Moore 146
Monroe: Musto 70, Moore 36