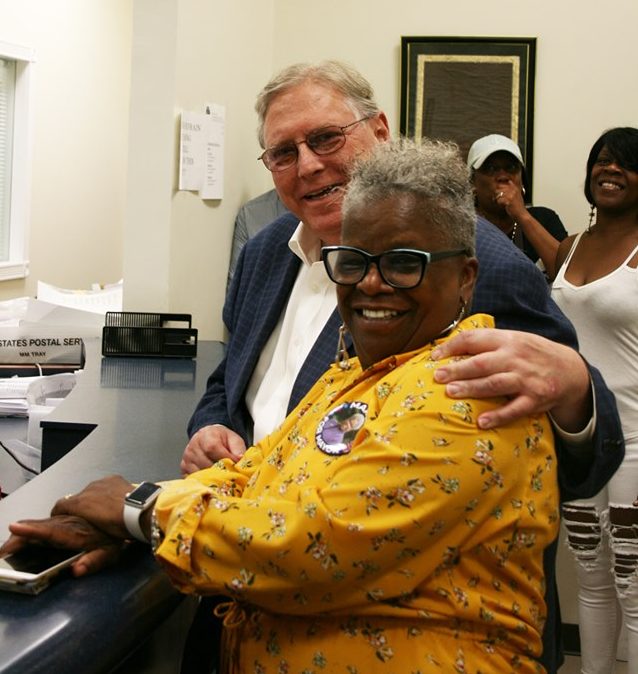 Win or lose the September 10 Democratic primary for Mayor, State Senator Marilyn Moore will appear on the Connecticut Working Families Party line for mayor in November.
Moore has long been a gladiator of the political organization's values such as minimum wage increase, earned paid sick days and corporate accountability.
The political organization that pushes many Democrats to the left has been influential in city politics including wins on the Board of Education and delivering a victory for former State Senator Ed Gomes in a 2015 special election.
It is also taking on a central organizational role in Moore's primary campaign against incumbent Joe Ganim at a time Moore has brought on Gemeem Davis to replace Kennard Ray as campaign manager just weeks from the primary.
Moore's sleepy campaign operation must kick up the thunder against a well-financed incumbent and skilled retail politician who has spending, organizational and power of office advantages.
That means galvanizing her base of support in Black Rock, West Side and North End, areas she represents in the State Senate, to counter Ganim's presumed strength areas in the rest of the city.
If Moore loses the primary to Ganim, what's the scenario for a competitive general election race? Let's say the primary is close, Moore wins the machine count, but the absentee ballot vote pushes the incumbent over the top, Moore's camp can bring that energy to the general election with Democratic support while appealing to a large bloc of unaffiliated voters. That, of course, requires financial firepower after draining the primary treasury.
Moore has raised just over $100,000 for the primary to Ganim's more than $300K. Moore will need a mighty organizational effort on primary day to offset the money challenges, an area where the Working Families Party has experience pulling off upsets.
WFP news release:
The Working Families Party of CT (WFP) has officially endorsed Senator Marilyn Moore (D-Bridgeport, Monroe & Trumbull) for mayor in the Democratic primary on Tuesday, September 10th against the incumbent and endorsed Democrat Joe Ganim. Last week, Moore qualified for the Democratic primary after submitting more than 3,900 petition signatures, which is more than the 2,500 necessary to qualify. She also qualified for the WFP ballot line in the general election on November 5th.

Additionally, the WFP has also endorsed the following candidates who sought our endorsement on Moore's Bridgeport primary ticket: Cynthia Torres and Kyle Langan for City Council, and Dasha Spell, Eric Stewart-Alicia, and Amina Brown for the Board of Education. Langan and Torres also qualified for the WFP ballot line in the general election.

Lindsay Farrell, Executive Director, Working Families Party of Connecticut:
"The Bridgeport-Stamford corridor is ground zero for income inequality in America. Approximately, 72% of Bridgeport households are living a paycheck away from poverty, the highest in the state. For the last six years, Senator Moore has fought hard to pass a $15 minimum wage, paid family and medical leave, higher education funding, and better access to food and nutrition services for Bridgeporters. Where has Joe Ganim been? He's been absent on these issues. Moore hasn't.

"WFP-endorsed state legislative candidates, like Senator Marilyn Moore and Senator Ed Gomes, have helped improve the political and economic landscape in Bridgeport over the years. For decades, however, insider Democratic politicking has held Bridgeport back while working families have struggled to get ahead. Fortunately, this election voters finally have a real choice: Do we want more of the same old, closed door backroom dealings that enrich developers, while Bridgeporters are hung out to dry? Or do we want Marilyn Moore, a 3-term senator and 20-year community activist who has fought for working families her entire life–and gotten the job done?

"The truth is that Bridgeport has the people, talent, and spirit to be one of the most prosperous cities in New England. But, we need a mayor who embraces a real vision for the city, not someone plodding along to get whatever he can out of the system for himself and his buddies. We can turn things around, but it won't be easy. It'll take Moore's whole ticket to get it done."

Rising inequality in Connecticut

Recently, the United Way released its ALICE report, which provides a disturbing analysis and portrait of communities struggling to survive in Connecticut.

ALICE is an acronym for people who are Asset Limited, Income Constrained, and Employed. It comprises households that earn more than the federal poverty level but less than the basic cost of living for the state.

According to the report, of Connecticut's 1,357,269 households, 134,494 earn below the federal poverty level (10 percent) and another 404,035 (30 percent) fall into the ALICE category. These are people who either can't or who struggle to cover the cost of basic necessities, such as housing, food, childcare, health care, and transportation.

To put this in perspective, approximately 72% of Bridgeport households are ALICE.

Meanwhile, the state's Bridgeport-Stamford-Norwalk metro area holds the largest concentration of millionaires in the U.S.

Connecticut's widening disparities in wages and employment opportunities threaten future economic prosperity by leaving families–especially people of color–behind.

Almost half of all jobs, mostly occupied by people of color, created since the start of the economic recovery have been in low-wage industries, such as retail and fast food service, which pay less and lack the benefits, predictability, and flexibility of jobs past. They also pay unlivable wages.