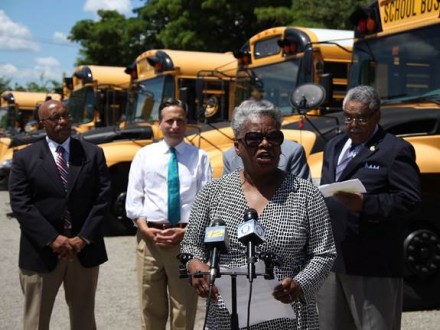 News release from State Senators Marilyn Moore and Ed Gomes:
At a press conference today at Bridgeport's We Transport Inc., State Senators Ed Gomes (D-Bridgeport) and Marilyn Moore (D-Bridgeport) announced that Park City businesses and middle-class families can expect to see millions of dollars in car tax relief in 2016. Bridgeport senators were joined by Senate President Martin M. Looney (D-New Haven) and Senate Majority Leader Bob Duff (D-Norwalk).
"Bridgeport's residents and businesses will save hundreds to thousands of dollars and have that money put back into their pockets," said Senator Gomes. The state budget will allow Bridgeport businesses and families to reduce their car taxes by 30.4 percent."

"The budget establishes a permanent cap on the car tax all across Connecticut," said Sen. Moore. "Businesses will see their car tax bills slashed by nearly a third, allowing for more money to be used to hire additional employees, give bonuses to current employees or purchasing more vehicles for production. I am happy to see that both the Bridgeport businesses and the communities they serve will benefit greatly as a result of this legislation."

"The recently approved state budget reforms the state's property tax system, delivering much needed motor vehicle tax relief to our residents and businesses," said Senate President Martin M. Looney (D-New Haven). "It is estimated that this budget will save families and businesses $60 million in car taxes in fiscal year '17 and $90 million in car taxes fiscal year '18, in addition to the other property tax relief that should result due to the significantly increases municipal funding contained in our budget."

"When I speak with business owners in my district, the tax that they are most concerned about is the property tax on their cars, fleet vehicles and other property," said Senate Majority Leader Bob Duff (D-Norwalk). "Cutting motor vehicle taxes for businesses like We Transport Inc. will allow the company to reinvest those dollars back into the business and its workforce."

As a result of the state budget, next year 46 percent of residents and businesses across Connecticut will receive a car tax cut when the mil rate is capped at 32 mils. In the following year, 56 percent of the state population will receive a direct car tax cut when the mil rate is again capped at 29.36 mils.

Companies like We Transport Inc., a provider of student and special needs transportation in Bridgeport will save over $200,000 over the next two years as a result of the mil rate cap.

Bridgeport families that own a vehicle with an assessed value of $18,000 can expect to save an estimated $400 over the next two years when the mil rate is capped at 29.36 mils by 2018.

"As one of the local companies, with a large amount of vehicles, that calls Bridgeport home, this reduction goes a long way to help us stay competitive within the industry," said Andrew Ifill, WE Transport's Director of Connecticut Operations. "We will utilize the savings to add jobs and obtain further growth within our industry. We would like to give a heartfelt thanks to Senator Moore and Senator Gomes for leading this effort that not only helps the residents of a city like Bridgeport, but also provides further opportunity for companies like WE Transport.