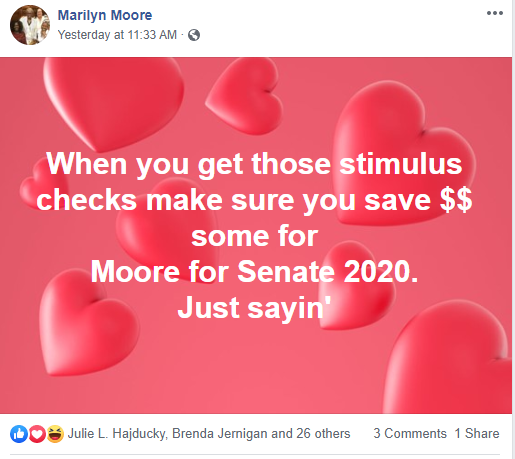 State Senator Marilyn Moore is walking back her now-deleted Facebook post: "When you get those stimulus checks, make sure you save some for Moore for Senate 2020. Just sayin'."
She's calling it "a bad mistake."
Some of Moore's staunchest supporters have pushed back on OIB breaking the story arguing it's just a joke. Really? Then why the apology?
Others assert they advised her to apologize including supporter Tony Barr who is prone to outrageous rhetoric: "I told her that was way out of line."
Moore's Democratic primary opponent City Councilman Marcus Brown says her apology is insincere. From Brian Lockhart, CT Post:
Moore in her apology said the statement had become "political fodder." The post garnered a lot of attention and was prominently featured on the Only in Bridgeport website.

… (Marcus) Brown in an interview Tuesday called Moore's apology "insincere" and criticized her for only issuing it "after she was called out."

"There are so many people out there struggling to pay rent and buy groceries," Brown said. "For any politician to be asking for any of that (money), their thinking is out of touch."

That echoed a criticism Ganim's supporters lobbed at Moore during last year's mayoral race–that she was not familiar with the poorer neighborhoods or with inner-city residents. Moore at the time argued she had a long history of community service that proved such allegations false.

On Tuesday Moore said her original Facebook post was intended to be "satirical" and ended up being "a bad mistake." She also claimed she has not actively sought any campaign dollars since mid-March because it would not be appropriate during the crisis.
Full story here.