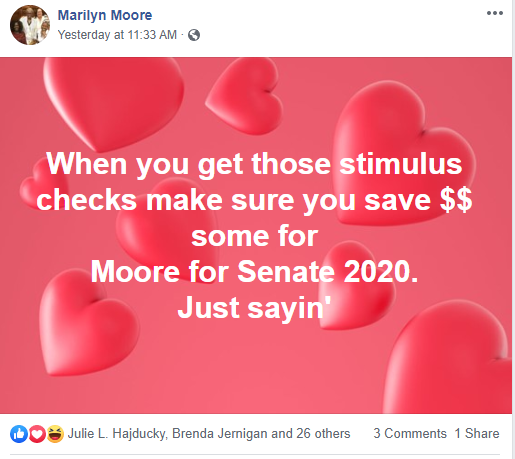 UPDATE: In the weeks ahead most Americans will receive stimulus checks, up to $1,200, from Uncle Sam. State Senator Marilyn Moore snarks on her Facebook page, save some for me.
Misplaced humor or not (Moore has deleted the post), people are suffering, many don't know if they can make the rent, car, mortgage payment. Jobless claims are unprecedented. Meanwhile Moore receives her state pay and perks during a pandemic while making light.
Imagine if a high-profile pol issued a similarly obtuse declaration on Facebook?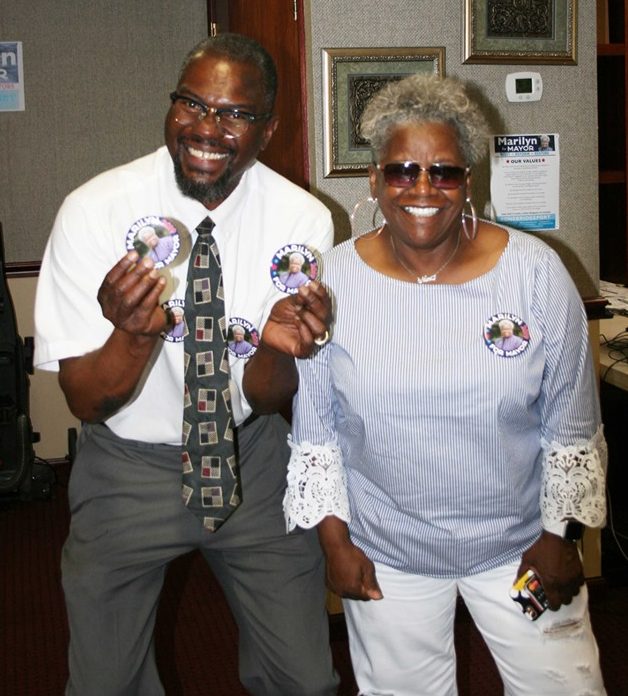 For Moore, it's another in a series of glaring gaffes that cratered her mayoral run in 2019. Oh, I must have left the petition sheets in the drawer; oh, someone else did it; oh, let's hire a recently convicted absentee ballot operative to run our AB operation; oh, file a lawsuit contesting the primary but don't put my name on it.
Moore is a heavy favorite to win reelection, given the advantages of incumbency. City Councilman Marcus Brown is challenging her in an August primary in a district that includes Bridgeport, Trumbull and Monroe.
Still, her self-inflicted blunders have done plenty to undercut credibility. She's loaded other crude cracks on her Facebook page during this health emergency.
It's why enough voters, some even anathema to Joe Ganim, said no Moore of this.
OIB reached out to Moore for a comment. No word.
She posted this apology Sunday night on her Facebook page:
I just took down a post regarding the stimulus checks for the following reasons: It was not meant as a serious request but an attempt to shift the conversation away from the heartbreaking coronavirus statistics. However, it seems like it's become political fodder. I've not asked anyone, friend or family for a contribution during this pandemic and also noted that if I received a stimulus check, I would donate it. I apologize to my constituents and community if they were offended.
Paging Soupy Sales "green pieces of paper."