What's in your stocking for Christmas? For Bridgeport another $1.3 million to stock up for development projects, courtesy of outgoing Governor Dan Malloy who has just a few weeks remaining in office.
Malloy on Wednesday announced Bridgeport will receive $725,000 for the remediation of the "Civic Block" located at 1162-1216 Stratford Avenue, 618-648 Newfield Avenue, and 25-55 Revere Street to prepare the site for 35,000 square feet of commercial space including a grocery store.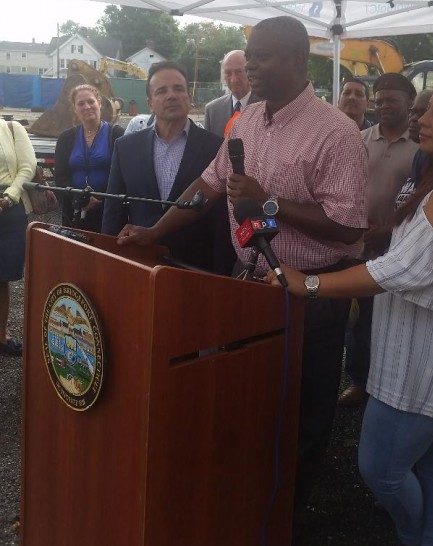 In September a local developer with deep roots in the East End joined Mayor Joe Ganim and other officials to announce plans for a build-out that includes a grocery store, Optimus Health Care facility, a pharmacy, restaurants, hair salon and laundromat, all adjacent to a new library for a food-desert neighborhood hungry for jobs, construction and amenities. Anthony Stewart, the managing partner of city-based Ashlar Construction has joined forces with Bridgeport Landing Development, operators of the Steelpointe Harbor redevelopment area, as equity partners for the $7 million investment.
Stewart told OIB on Thursday that the remediation portion of the project will take about four months. He anticipates groundbreaking for the Gala Foods grocery store around July 1.
Malloy also announced on Wednesday $600,000 to Park City Communities, the rebranded Bridgeport Housing Authority, for the abatement, demolition, and remediation of Marina Village located at 400 Iranistan Avenue to prepare the site for creation of 150 mixed-income residential units as part of Phase 3 of the Marina Village project.
For background see here.
Wednesday's announcement is in addition to last week's State Bond Commission approval of $15 million for Bridgeport infrastructure projects, see here.