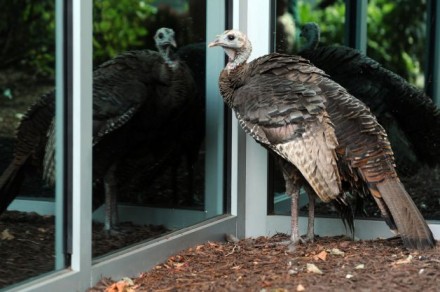 Turkeys rarely die of natural causes and in this Thanksgiving week we mourn the death of the legendary Downtown gobbler. From Mike Mayko, CT Post:
She often liked to wander down to McLevy Green and the City Hall annex where the mayor and city attorneys work, striding along on her skinny legs, her head bobbing, her wattles waving, one eye on oncoming pedestrians, the other on the sidewalk searching for tasty treats.
But despite Gov. Dannel Malloy's proclamations that Bridgeport's streets are safer than ever, they weren't safe enough for Wilhelmina the wild turkey.

The street-savvy gobbler–who posed for selfies, stopped traffic and did her best to make the downtown her stomping grounds–is dead, murdered sometime before 9 a.m. on Nov. 15.
Full story here.
CT Post reporter Amanda Cuda seeks exclusive interview with Downtown turkey.