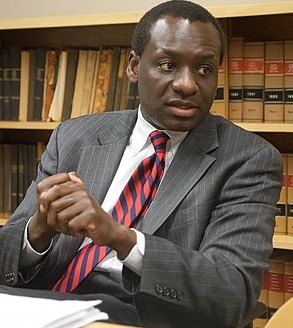 A former civil rights attorney influenced by the career of Thurgood Marshall, the first person of color to serve on the Supreme Court, is overseeing the case of State Senator Dennis Bradley charged with several counts of wire fraud in connection with an alleged scheme to falsify documents to receive an $84,000 grant under Connecticut's Citizens Election Program of publicly funded races for his run for state office in 2018.
U.S. District Judge Victor Bolden, who sits in Bridgeport, joined the federal bench in January 2015, championed by Connecticut's U.S. Senators Richard Blumenthal and Chris Murphy. All Senate Republicans opposed the nomination of Bolden, 49, who has served as an attorney for the NAACP Legal Defense Fund and as a lawyer for the American Civil Liberties Union.
Former Mayor Tom Bucci, an expert in labor law and employment discrimination who's had cases before Bolden, describes him as "an excellent judge."
Bradley's indictment is an outlier in public corruption, the first time the federal government has leveraged the state's public financing program for such an action. Bradley is represented by former federal prosecutor James Glasser who knows his way around.
The case of Bradley's co-conspirator, Board of Education member Jessica Martinez who served as his campaign treasurer, is more straightforward due to her extended charges of providing false information to federal agents and a grand jury, allegations nearly impossible to defend.
Jury selection in Bradley's case is scheduled for August, but could be delayed in a flurry of motions made by the defense and government. Bradley, who entered a not guilty plea at his hearing, is vowing privately to friends and supporters he will take this case all the way to trial and will be exonerated. At the advice of Glasser, the normally effusive state senator has made no public remarks.
Bradley's in a professional pickle. If he pleads out to a felony to reduce potential prison exposure, his law license will be stripped. He could make application to regain it down the line.
Bradley's inner circle of friends and supporters such as City Clerk Lydia Martinez and East End Democratic leader Ralph Ford continue to back him asserting this case could have been handled civilly. They cite the state case brought against Ernie Newton for his run for state senate in 2012. Newton was charged with falsifying several donor cards to achieve the threshold to receive a public grant. The state's case seemed thin and could have been handled civilly, for sure, appearing that state prosecutors simply wanted Newton's pelt for public posturing.
In the end the Connecticut Supreme Court sided with Newton's trial appeal and his lawyer negotiated a plea arrangement to lesser charges without jail time.
Bradley's case is different on several fronts including the resources that go into a federal investigation as well as the cover-up angle. The indictment asserts that Bradley and co-conspirators, two of which are not named and will likely be witnesses for the government, took great pains to falsify documents when the heat was turned up. Sometimes it's not the crime but the coverup.
In short, the government alleges Bradley and company schemed paperwork to qualify for the taxpayer grant. The State Elections Enforcement Commission that oversees the program approved the $84,000 primary grant but not the general election dough when staff discovered a blizzard of paperwork issues. It's raised issues about the tightness of the program review including staffing levels to vet the process. Supporters of the program assert the department is way understaffed given the tens of millions of dollars the voluntary program hands out each state cycle.
Ironically, had Bradley's primary grant application been denied from the start there's likely no federal case because there's no financial loss to the state. The feds maintain, however, Bradley received the grant because he falsified the paperwork.
Bolden's decisions include:
The first federal judge in the country to void the Trump administration's policy of separating families without a hearing citing the constitutional rights of children and parents. The federal government released the parents from a detention facility in Texas during a border crackdown on undocumented parents.
Ruling in favor of an insurance company not paying an East Haddam man a $257,000 insurance policy belonging to his murdered wife because no one had been charged in her 2018 death. He cited: "If Zurich paid the benefits to Mr. Kalosky, and then Mr. Kalosky was then found to be disqualified, Zurich may face a claim from Ms. Kalosky's step-son or sisters. On the other hand if Zurich paid the benefits to Ms. Kalosky's step-son or sisters, and the murder subsequently was solved in a manner that made it more likely than not Mr. Kalosky wasn't the murderer, Zurich would face a claim from Mr. Kalosky." The money was placed in escrow.
Ruling against Noriana Radwan, the former UConn women's soccer player, stripped of her scholarship for giving the middle finger to a television camera during a nationally-televised game.
Sentencing Alvin Robertson of Bridgeport to 120 months in prison for committing three bank robberies and two Subway store robberies.
Jailing celebrity chef Bruno DeFabio for 30 days for falsifying tax returns for his Pinocchio Pizza LLC.
Putting away an East Hartford pediatrician for six months for illegally prescribing opioids to two adult patients for cash payments and failing to pay the government more than $117,000 in taxes withheld from the paychecks of employees.
From CT Law Tribune:
While Bolden never met Marshall, he has met several members of his family, including his widow Cecilia, who was a member of the organization's board of directors.

"Thurgood Marshall was a mentor to me, one of many. Marshall had an extraordinary life and career, including his amazing achievement as one of the attorneys in Brown v. Board of Education. That was the most important legal decision in the history of legal law," said the 55-year-old judge.

Judge Bolden's background from federal judicial website:
Judge Victor A. Bolden was sworn in as a United States District Judge on January 7, 2015. He received an A.B. degree from Columbia College in 1986 and a Juris Doctor from Harvard Law School in 1989.

After graduating from law school, Judge Bolden served as a Marvin Karpatkin Fellow for one year and then as a staff attorney for more than four years with the American Civil Liberties Union Foundation's National Legal Department. Thereafter, he became an assistant counsel with the NAACP Legal Defense and Educational Fund, Inc. from 1994 to 2000. From 2000 to 2005, he joined the law firm of Wiggin and Dana in New Haven, Connecticut, and served as an associate and later counsel. From 2005 to 2009, he returned to the NAACP Legal Defense and Educational Fund, Inc. to serve as its general counsel. In 2009, he was appointed the Corporation Counsel for the City of New Haven, Connecticut and served in that position until December 31, 2014.

Throughout his legal career, Judge Bolden has been active in national, state and local bar activities. He is a member of the American Bar Association's Section of Litigation leadership and the New Haven Inn of Court and President-Elect of the New Haven County Bar Association. He previously served as a member of the board of directors for numerous organizations, including the Connecticut Veterans Legal Center and the Connecticut Food Bank.