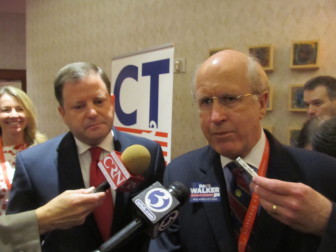 In 2014, former State Senator John McKinney and Bridgeport resident David Walker formed a campaign team when the candidates ran for governor and lieutenant governor respectively. Most political observers believe McKinney would have defeated incumbent Democrat Dan Malloy had he been victorious over Tom Foley in the GOP primary. This cycle McKinney bowed out of a run while Walker, the former U.S. comptroller general, is running for the state's top spot. McKinney on Monday, however, endorsed former Trumbull First Selectman Tim Herbst for governor. The GOP convention is May 12. An August primary is expected.



McKinney endorsement letter:
As a kid growing up in Fairfield, I would often spend time during campaign season stuffing envelopes, passing out palm cards at the train station or putting up lawn signs for Fairfield Republicans, people like my father Stew McKinney, Carl Dickman, Jacky Durrell, Dan Caruso and so many more. In 1998, I was honored to receive the endorsement of the Fairfield RTC as your candidate for the State Senate and for 16 years I had the privilege of representing you in Hartford. Although I was unsuccessful in my bid for Governor in 2014, the Fairfield Republicans came through for me, delivering more votes in the primary than any other town in the state. I am forever thankful and grateful for your incredible support.

While not a candidate in this current election cycle, I remain passionate about the difficult issues facing our state and to that end, am fully committed to electing a Republican governor and Republican majorities in the legislature. Recently I was asked by two prominent members of the Walker team to remain neutral during the gubernatorial primary, to not get involved or share my thoughts on the race. I simply cannot do that. This is too important.

We all know that our state is in trouble. If we are going to save Connecticut, reverse the damage done by Dan Malloy and the Democrats in Hartford and restore prosperity, then we must nominate a Republican candidate for Governor who can win in November and who will fight fearlessly for hardworking taxpayers once in office.

I believe that candidate is Tim Herbst.

Tim is a battle-tested leader with a track record of winning tough fights. At age 29, he defeated a popular Democrat incumbent to become the First Selectman of Trumbull, he then went on to become the first Republican re-elected in Trumbull in over 40 years. Not only did Tim win four straight elections, he carried a supermajority of Republicans on the town council every time he was on the ballot.

In 2014, as our Republican nominee for State Treasurer, Tim outperformed the entire GOP ticket; a feat even more impressive considering that his opponent was a 15 year incumbent and the Democrats top vote getter in the previous election.

In short, Tim is a proven winner and vote getter.

Under Tim's leadership, Trumbull made a remarkable turnaround:

• Tim reversed an unfunded pension crisis by reforming town benefits and saving taxpayers millions of dollars. Tim led by example, refusing to take a pension, reducing the number of pension-eligible political appointees and entering all new hires into a defined contribution plan.

• Tim balanced eight straight budgets, and cut taxes twice. Tim's strong fiscal management resulted in an upgrade in the town's bond rating, creating further savings for taxpayers.

• Tim developed a pro-business climate that spurred economic growth for each of the eight years he was in office allowing him to make important investments in the public school system and town infrastructure.

• Under Tim's stewardship, Trumbull gained national recognition as Family Circle magazine ranked Trumbull as the 7th best place in the country to raise a family and Realtor.com ranked Trumbull's school system in the top 10 nationally.

The reality is that in my lifetime, Connecticut has not elected a candidate for Governor who has not previously held elected office. We have seen our party nominate candidates in recent elections who had never won an election and who had no prior political experience, only to see them lose time and time again. We cannot afford to make that mistake again in 2018.

Tim Herbst has what it takes to govern, and it is my sincere belief that he is our best hope for victory in 2018.

Please join me in supporting Tim Herbst for Governor.