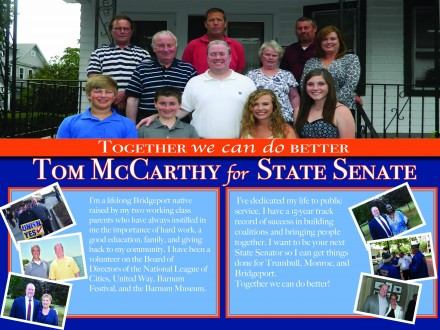 City Council President Tom McCarthy has issued his first mail piece in his quest to defeat freshman State Senator Marilyn Moore in an August 9 Democratic primary, highlighting his public service and building coalitions to bring people together.

Some of the issues the mailer touches on are investing more in education, fixing a broken property tax system and raising wages.
"I've dedicated my life to public service," McCarthy declares in the mailer. "I have a 15-year track record of success building coalitions and bringing people together … Together we can do better!"
Connecticut's 22nd Senate District covers one-third of Bridgeport, all of Trumbull and a piece of Monroe. Moore won the seat two years ago knocking off incumbent Anthony Musto in a primary on her way to a general election win. Musto, Trumbull's town treasurer, is an active McCarthy supporter.
The mailer also lists a number of officials supporting McCarthy's candidacy such as Trumbull Town Chair Tom Kelly, Black Rock District Leader Danny Roach who is also Mayor Joe Ganim's chief of staff, and City Council members Mary McBride-Lee, Jeanette Herron, Michelle Lyons, AmyMarie Vizzo Paniccia, John Olson, Evette Brantley and Katie Bukovsky.