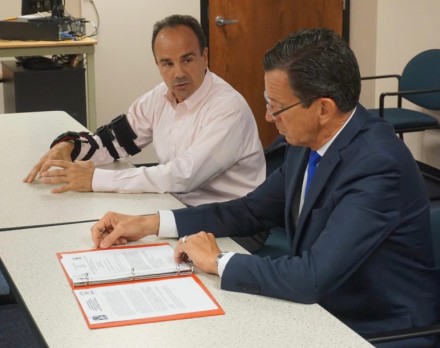 If Governor Dan Malloy runs for a third term in 2018, can he win? If he runs, he must make a whole lot of mayors happy and they make him happy in return. Otherwise, it's sayonara. Unless, of course, the Republicans put up another flaccid candidate such as Tom Foley.

Republicans positioning to run statewide in 2018 include twice gubernatorial candidate Danbury Mayor Mark Boughton, 2014 candidate for governor John McKinney who lost to Foley in a primary, Trumbull First Selectman Tim Herbst whose 2014 treasurer run was the strongest among GOP constitutional candidates and Shelton Mayor Mark Lauretti. The election may be in 2018, but the fundraising starts now.
Urban areas delivered the vote for Malloy in 2010 and again in 2014. Donald Trump's presidential victory lessened Malloy's gubernatorial escape hatch. If Hillary Clinton had won, perhaps he joins her administration?
What are Malloy's options now? He's raised a boatload of cash for the National Governor's Association. He's a policy wonk. Perhaps land with a think tank or a university? Or he says screw it, I'll run again. But even some of Malloy's biggest supporters say quietly it's a tough slog. Mayors are griping, labor unions barking, the state electorate nonplussed. But elections are a crazy business, ya just never know.
Meanwhile, several of Connecticut's big-city mayors are positioning for their municipal pound of flesh in a difficult state budget cycle with another deficit on the horizon. Some are up for reelection this year and others such as Bridgeport Mayor Joe Ganim, with a four-year term, not up until 2019.
Malloy stated recently he's one of the most conservative governors in Connecticut history. Not the kind of talk city mayors want to hear. Oh actually, he can say it all he wants, as long as he gives them what they want. If he doesn't they'll schmooze the legislature for what they need with the backing of the municipal lobbying arm Connecticut Conference of Municipalities.
This is a key fiscal year for Ganim following last year's thorny budget. Malloy's in a position to help. Ganim won election without Malloy's help. They were never the best of buds to begin with when Malloy was mayor of Stamford, but Ganim has said all the right things about Malloy … so far.
On Monday, Malloy declared "We have for too long turned our back on the welfare of some of our largest communities." Will he put words into action?
Governors keep score, mayors keep score. It's the nature of the beast. And sometimes, depending on the political winds, they are simply symbiotic.