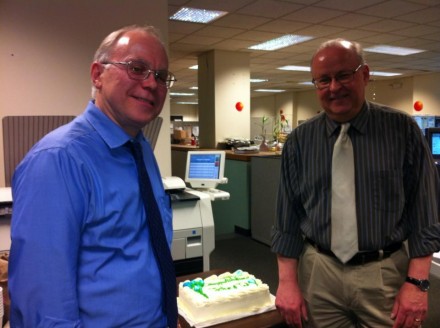 Next time you want to beg for coverage, praise coverage or complain about coverage at the Connecticut Post, there are two names to keep in mind: Jack Alcott and Ted Tompkins. They were named managing editor of content and production respectively this week. Alcott wrote on his Facebook page the other day:
Yep, it's official. They made me managing editor/content at the Connecticut Post and for the Hearst Connecticut Newspaper group of dailies (Danbury News Times, Stamford Advocate, Greenwich Time). What a great and splendid gig!

Alcott and Tompkins are accomplished newsmen who toil in the world of corporate journalism. Not an easy thing these days, especially for guys who remember family-run operations. Step by step Hearst Connecticut Newspapers, the parent of the Connecticut Post, is consolidating the operations of its four Connecticut-based dailies Connecticut Post, Stamford Advocate, Greenwich Time and Danbury News Times. They call this economies of scale, or something like that. The Bridgeport printing press on State Street prints all four papers. Managing editors to cover all four papers. Scribes to write stories that appear in all four dailies.
Closer to home in Bridgeport it appears that Keila Torres Ocasio and Brian Lockhart have settled in as the regular city reporters with other scribes filling in on city assignments. Keila and Lockhart are efficient scribes navigating the serpentine world of city government. Would be nice if the Post could allocate a few more steady reporters to the city, but the coverage has actually improved from where it was several years ago when crickets were a way of life.
When a paper does not cover a city, knowledge is lost about a city and mistakes are made. And by the way, pols can do just about anything they want without scrutiny.
Alcott and Tompkins report to Barbara Roessner, the executive editor of Hearst Connecticut Newspapers. So congrats to Jack and Ted. Now can you guys (Roessner too) please allow OIB to run more than two paragraphs of a Post story without violating your fair use policy? Ah, no respect for a former Post scribe.