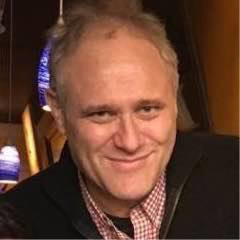 Downtown resident Doug Davidoff has become a student of city political history. The marketing and public relations professional has a suggestion: help citizens better understand City Council districts. He shares his take in this commentary.
Fifty years ago, Bridgeport was introduced to the City Council as we know it today.
We should celebrate by making a change to help citizens better understand their city legislature and identify more closely with their council districts and elected councilors.

It was in 1967 that Park City legislators convinced the General Assembly and Gov. John Dempsey to approve a new arrangement for what was then the Common Council. Enlarged from 16 to 20 members, the new council would have ten districts. Each would elect a pair of councilors.

The district lines were identical to the city's districts in the Connecticut House of Representatives. Because of that, the council districts were named after the legislative districts which they copied.

And that is how the City Council districts are still known today: Districts 130 through 139. Including Districts 131, 132, 133, 134, 135, 136, 137 and 138.

It reminds me of the names of the ten youngsters in Robert McCloskey's beloved children's book, "Make Way for Ducklings," which celebrates the kindness of police officers and New England city values. You know the ducklings: Jack, Kack, Lack, Mack, Nack, Ouack, Pack and Quack. Our council district names are as indistinguishable as the ten ducklings, but sadly not nearly as cute nor as memorable.

After 1967, the five ensuing decennial reapportionments altered Connecticut's legislative maps. Today, Bridgeport's districts for the state House of Representatives bear no relation in shape, quantity, name nor location to Bridgeport's districts for the City Council.

Just one House seat and one City Council district still share a name: "The 130th District." Ironically, their territories don't overlap much. Best I can tell, a single intersection enjoys being in both the 130th House District, covering downtown and the South End, and the 130th Council District, covering Black Rock and the West End.

Do you think new voters–teenagers voting for the first time, people moving into Bridgeport or an adult who decides to register to vote–can look at our utterly nonsensical three-digit district names and pick the one that is their own? How do you identify with this nutty number that only a mathematician or a jaded political operative could love?

When I returned to Fairfield County two years ago after decades living in other cities–Raleigh, Indianapolis, Chicago and Boston, among others–I was baffled by Bridgeport's council district naming nomenclature.

I'm a former newspaper reporter and a former state and local official. I'm sophisticated about local government. Yet Bridgeport's council districts left me perplexed. I live in the "131st District." Did that mean there were at least 130 other city council districts? I believed that for a while!

Suppose I leaned instead that I lived in a place called "Council District 1 (South End & Downtown)." Golly, that would be easier to identify with, wouldn't it?

Suppose that instead of living in the "133rd District," my elderly mother lived in "Council District 3 (Mid-North & St. Vincent)." That would be a description that meant something when she read or heard it.

I can memorize single-digit numbers. Remembering my place in a set of bizarre three-digit numbers taxes my memory. Bridgeport needs lower taxation on the minds of its residents as well as on the value of their properties!

No one knew the answer when I inquired about the origin of our weird and irrational council district names. I asked historians, City Council leaders, political activists and local journalists. Finally, I plowed through years of the Bridgeport Post and Bridgeport Telegram to discover the answer.

From the Post and Telegram reporters writing in 1967, I learned that the new system might have helped state legislators of the day be elected to the City Council from the same districts they already knew how to win. Naturally, Republicans challenged this system. But their lawsuit was quickly tossed out. The GOP's allegation that the one-man-one-vote principle was violated was all too easily disproved. Obviously, if the current House map passed muster, then the new council map had to pass muster as well. (One wishes the Bridgeport GOP had chosen a more potent basis on which to mount the challenge.)

Exactly one legislator–who not surprisingly led the charge to design and name our current City Council districts–was elected on Nov. 7, 1967, from his House district's territory to the new overlapping City Council seat. He was state Rep. and Common Council President John P. Maiocco Jr.

Bully for him. The rest of us live with his anachronistic legacy.

(There was a much more notable advancement for the council on Nov. 7, 1967: Bridgeport elected its first African American councilors. They were Walter H. Edwards and George C. Scott. It happened on the strength of circumstances that would be remarkable today: a 61.2 percent voter turnout despite awful Election Day weather.)

On the golden anniversary of our current City Council governance system, I modestly propose another advancement: Name our districts from 1 to 10. Or name them for the first ten letters of the alphabet. Add neighborhood labels already used by city planners and leaders.

Make our council easier for the citizens to understand. We can't do it for this year's 50th anniversary. But let's do it for the 52nd anniversary in 2019.