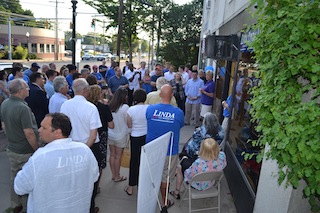 On a day more than 700 volunteers for Linda McMahon made 38,088 voter contacts from around the state billed as "Super Saturday," according to her campaign, the Republican candidate for U.S. Senate opened her Bridgeport field office in Black Rock, just a half mile from the home of her Aug. 14 primary opponent Chris Shays. In opening a Bridgeport headquarters the McMahon campaign is sending a message that it's ceding no territory–in the primary, assuming a win over Shays, and general election–in the state's largest city. Democrats Chris Murphy and Susan Bysiewicz will face off in the Aug. 14 primary.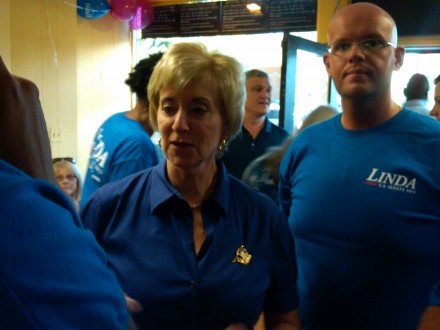 McMahon greeted dozens of supporters at her Black Rock field operation on Fairfield Avenue around 6:30 p.m. The centerpiece of McMahon's message is her plan to provide a tax cut for middle-class families. Under her plan, according to her campaign, the average family in Connecticut will have an extra $500 each month to tend to their own families' needs.
"That's money toward a car payment, or rent, or a mortgage, or groceries, or school supplies or tuition," McMahon told supporters attending her Bridgeport opening. "That's real money. And it will matter," she said.
The McMahon campaign says supporters made 24,912 voter identification phone calls and knocked on 13,176 voters' doors as the candidate moved across the state visiting field operations.
McMahon's Black Rock hospitality also included a barbecue of hotdogs, hamburgers and pulled pork sandwiches. Among the McMahon crowd was a campaign supporter of Chris Shays bellying up to the food line. "I'm a Shays guy," he told OIB, "but I'm here for the free food."
It ain't Bridgeport politics without a freeloading spy.