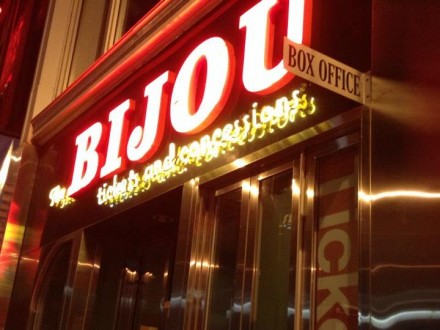 When the curtain appeared to fall a few months ago on the Downtown gem Bijou Theatre it was like a shot to the solar plexus of patrons who loved live music, comedy, films, community events and theatrical productions in an intimate 200-seat setting. Developer Phil Kuchma says the Bijou never really closed, but has transitioned to a new chapter for the historic venue, one of the oldest movie houses in the country that underwent a renovation several years ago. Kuchma says the venue is alive and well with a number of events on the horizon.

"A new chapter for this historic venue is about to unfold and we want you to be a part of it," declares the Bijou website. "Join us for classic, foreign, and independent films screening plus concerts, comedy, and variety shows. Or you can stop in for a drink and some popcorn–our lights are always on!"
In July, Christine Brown who managed operations there for five years announced, "All of us at the Bijou have given our heart and soul to this project and we are all devastated. We love Bridgeport and we love the Bijou. We have had the unique privilege of showcasing extraordinary talent on our stage, and sharing this historic and beautiful venue with tens of thousands of people. Our sincere thanks and respect goes out to everyone who has supported the Bijou in any way."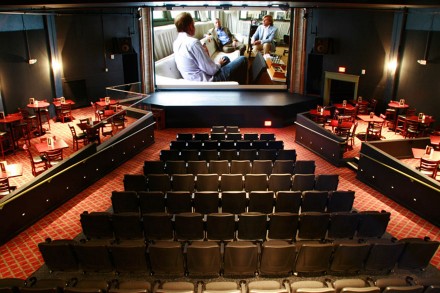 Kuchma cleaned up a couple of city blocks on both sides of Fairfield Avenue in his Bijou Square redevelopment. Included was the renovation of one of the oldest movie halls in the country into a cool 200-seat venue with a full bar and food options. Brown says she could not come to terms with landlord Kuchma on keeping the place alive. Brown, an attorney who works at Fairfield University, found herself supplementing the continuation of the venue with her personal finances.
Kuchma told OIB the other day the lights are on at the venue with a number of scheduled events with more to come. The website lists a WPKN-featured film on musician Frank Zappa, an event hosted by the Cultural Alliance of Fairfield County, and events sponsored by the New England Ballet Company in the coming weeks.
On Wednesday Connecticut Against Gun Violence will present a screening, followed by a panel discussion, of the new documentary, 91%: A Film About Guns in America.
Local restaurants such a Trattoria A Vucchella, Joseph's Steakhouse and the newly opened Milano Wine Bar will also benefit from the economic impact of Bijou events.